Submitted by Matt Rowell on
Whether you've just jumped on board the VR bandwagon by picking up a Google Cardboard or a similar VR phone holder, or you just want to watch cool interactive videos where the frame moves with your phone or tablet in your hand - there's thousands of incredible 360° videos out there you can watch. Sifting through all the options can be confusing, so we've put together a list of our favorite 360° interactive and VR video applications.
For the purposes of this article, I'm not going to mention any video players designed to watch standard 2D video content and movies in side-by-side mode. We're talking about the truly 360° experiences, if you'd like to watch YouTube cat videos or Batman 11 with your phone strapped to your face you may want to look elsewhere.
Kolor Eyes
Price: Free
Platforms: iOS, Android, Desktop, Oculus
Definitely one of our favorite apps for viewing 360 and VR content. Kolor Eyes has a huge library of contributed content with 100s of videos that can be streamed or downloaded to your device. Furthermore, you can download your own video files through the app as well by providing a URL. We even recommend this one to our mobile users, if you download the app you can be 1 tap away from enoying everything in our 360 Labs Video Library. Kolor Eyes has versions available for desktop, iOS, and Android. Videos can be projected in a variety of modes, including our favorite "little planet," and videos can be played in side-by-side mode for viewing in VR headsets. The desktop application works with Oculus and other third party peripherals such as Leap Motion.
VR Player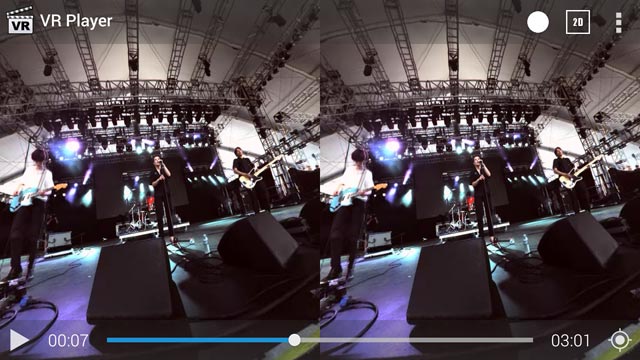 Price: $4.99 (free for desktop)
Platforms: Android, Oculus
The VR Player application is free and open source for desktop use, although the Android app is a modest $4.99. It supports both 2D and 3D videos, can play in side-by-side or over-under, and has a variety of projection modes. Unlike other player applications, VR Player works with voice commands and supports gamepad controllers. It can load videos through URL or find local files on the phone.
360 Heros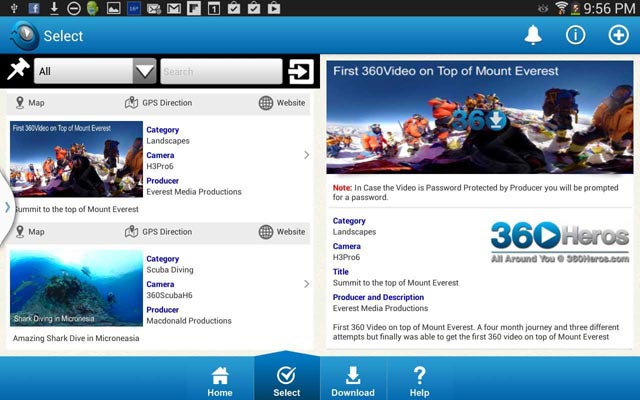 Price: Free
Platforms: iOS, Android
The 360 Heros app is available for Android or iOS. They have a vast library of producer contributed content, keyword searchable and filterable by category. These apps download videos to your phone, downloading is typically a better option for smooth playback although some players offer streaming. Unfortunately, 360 Heros app lacks additional projection mode options and does not have a side-by-side option for VR viewing.
im360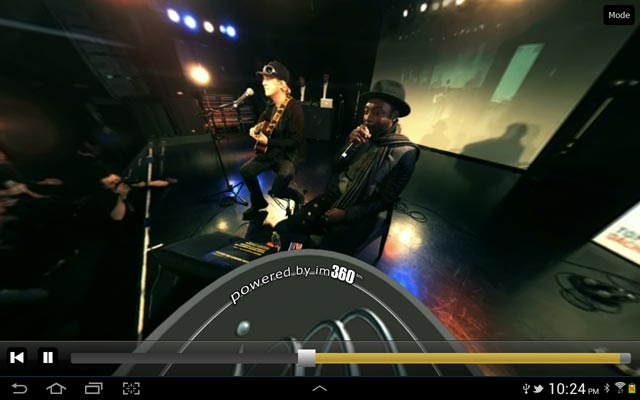 Price: FREE
Platforms: iOS, Android, Oculus, Samsung Gear VR
Immersive Media, pioneers in the 360° interactive space have their own app but have begun to allow other publishers to have channels and add their own videos. The app features 2 viewing modes, standard 360 and side by side VR mode. You can supply a link to upload your own video content to the player as well. Most of the content available via the im360 app was expertly shot by Immersive Media themselves, and they have some incredible shots in this library. The only drawback would be that other projection modes aren't available, you won't be getting trippy in Little Planet mode.
TC360 Player
Price: Free
Platforms: iOS, Android, Oculus
Total Cinema 360's player allows you to watch their show reel and has a link to more videos on their website (ok, so I lied about there being no cat videos). You can play native videos from the phone's file system as well, but there's no feature within the app to direct download video, you'll have to transfer them to the phone. It features a standard projection mode along with a side by side VR viewing mode.
Making View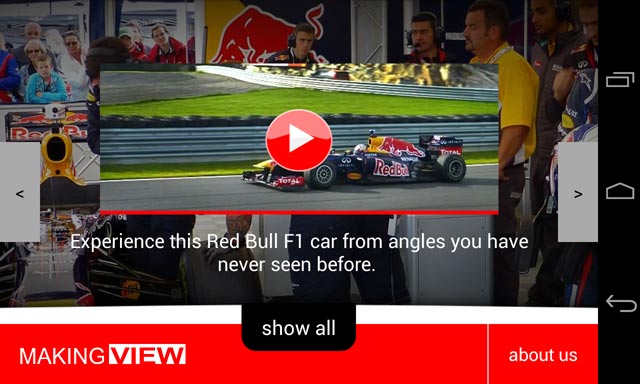 Price: Free
Platforms: iOS, Android
The Making View app only offers a handful of just eight 360 videos, but these are so awesome we suggest downloading their app just for these few videos. The wingsuit jump is one of our all-time favorites. Unfortunately the app has no VR viewing side-by-side mode and only allows for 1 kind of view projection. You will also have to tap a button to toggle between touch motion and automatic motion. All in all it's lacking some features, but it's very easy to use and jump right into some incredible videos.
That's All For Now
If you're looking to experience 360 video in VR, check out our list of VR head mounted displays. If you've got a 360 video app you'd like us to try, let us know.