Submitted by Matt Rowell on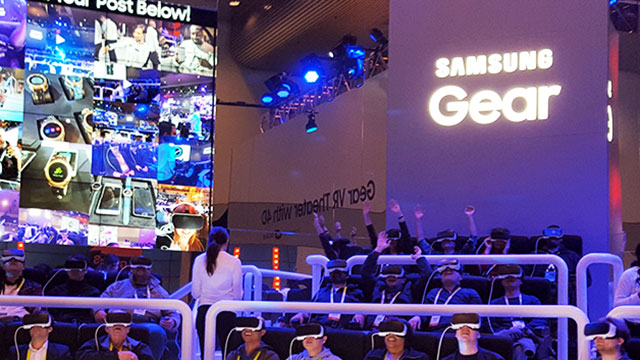 Last year, we could definitely tell the consumer market was hungry for VR at CES. We couldn't even walk 5 steps without somebody stopping us along the way to see a 360 video demo. This year the proof is in the pudding. All of the big names have thrown down. Now we get to see if the hungry consumer market actually likes what we're feeding them.
At CES 2016, it's obvious that the consumer is now more educated about what 360 video is, thanks to YouTube and Facebook. So we didn't see the need to send our whole team down there this year. 360 Labs is much busier than we were this time last year. Instead, I went to the show by myself, 1 day, with 20+ exhibitors on my agenda. The goal was to meet and greet and see what new products or platforms are out there.
As a quick disclaimer, I'm only interested in VR as it applies to video capture for cinematic VR, so I might skip past some of the gaming industry products. If you are into CG environments and gaming, this is probably not the CES recap for you.
Nokia OZO
One of the big reasons I came to CES was to get hands-on with some of the professional camera solutions being developed right now, and Nokia OZO was at the top of my list. They showed me a demo reel containing video from a concert on a roof-top balcony, a sword fight on a beach with pirates, as well as a music video set in a warehouse environment. All content was demonstrated on a Samsung Gear VR through a proprietary app.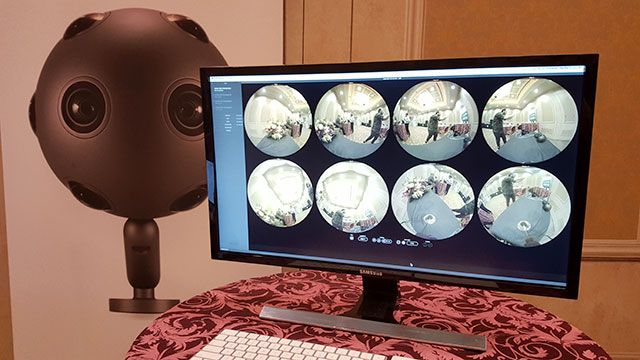 The first thing I noticed was the interpolation happening between lens perspectives as I turned my head. You see a very noticeable shift between perspectives, almost like a fade transition. Honestly it's a lot less jarring than a stitch line, but it's distracting nonetheless. This was explained to me as the default behavior when you pull footage off the camera and play it within Nokia's viewer. If you take additional time to do a complete stitch on your footage in post production, you get playback without any of the perspective shift just like we're used to watching. Since we're professionals and we like to tinker with all of our shots until they are perfect, I assume it's better than a "one size fits all" approach that would auto-stitch and make assumptions about what we want.
The quality of the stereoscopic 3D left me wanting a little bit more. The scale seems very small, people almost have a munchkin like appearance. It felt like I was watching toys or figurines rather than real people. Examples from Felix & Paul, Condition One, and Google Jump seem to have a much more natural scale.
It's hard to judge stitch quality considering that I don't know who worked on it or what his/her skill set or workflow may be, but there were a few minor flaws. All examples had stitch lines in the back, whether post processed or not. The pirate scene apparently had the most done in post, but still had a single black seam in the back as well as a pinched zenith. The actors and action around the camera on the horizon however, were very well stitched and looked quite flawless.
Great quality 3Dx360 is a huge challenge, and it's apparent to me that we've still got a long way to go. There hasn't been a single solution out there that doesn't involve many hours of post production, which means job security for anybody out there who can stitch, roto and composite. But we all knew that, right?
I would love to have compared this to the Samsung Project Beyond, but I wasn't able to reach the team before the conference.
GoPro
Sadly, GoPro did not bring the Karma drone out at CES, neither were they showing Odyssey. However, they did show their new 6 camera housing. At first glance, it seems just like a basic camera holder much like the Freedom 360 Explorer, however there's much more to it than that. The rig has an onboard chip that syncs all six GoPros with genlock, and syncs all settings. This means you can plug in 6 GoPro, set all of your protune settings and video settings on just 1 GoPro and the entire rig will be synced with the same settings. Starting and stopping record only requires touching 1 button.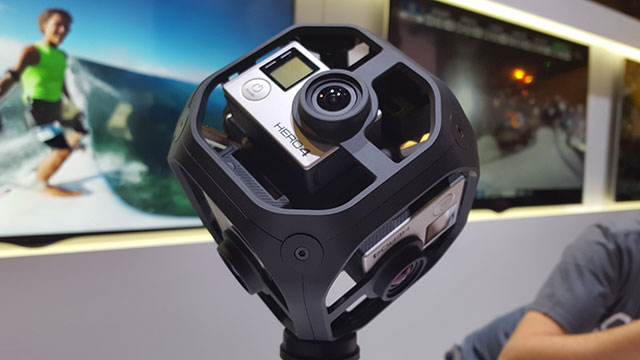 This is great news, however many of us wait impatiently for the release of an integrated consumer 360 camera. Knowing this, GoPro did release an official statement to announce they are in fact working on a 360 camera. With the introduction of 4K 360 cameras from Nikon, 360fly, and others in China, competition is heating up. GoPro's ace in the hole is Kolor, I don't think any other 360 camera competitor will have better onboard stitching.
Nikon / KeyMission 360
Nikon's new 4K 360 camera was on display, but that's about it. When I asked representatives about it, they told me they didn't know any specifications. At this point it's just an announcement, we know nothing about the price point or an exact release date. It seems to be geared towards the action camera crowd with shock proofing to 2 meters, waterproof up to 100 feet, dust resistant and with onboard WiFi and Bluetooth. It's a fairly compact package, not quite as big as 2 back to back GoPros.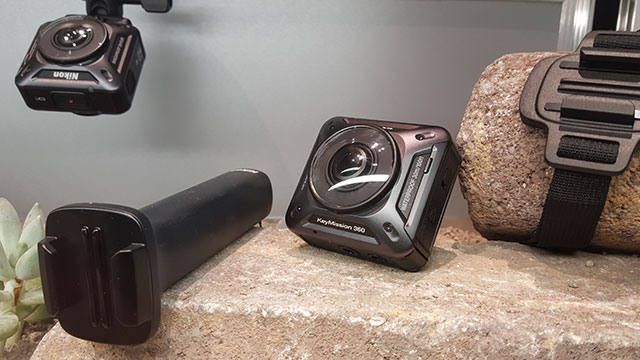 After watching the samples, I'm left wondering if Nikon is even concerned with the VR headset market at all. There seems to be no attention paid to stabilization or even the very basics of horizon correction. Bring on all the shaky videos!
Sphericam 2
With all the announcements and talk about who's going to have a 360 camera in 4k, Sphericam 2 is actually right around the corner from shipping and I was able to get my hands on the prototypes at CES. I can't tell you how excited for mine to ship! The latest housing is a little bit larger to accommodate the battery, but overall it still seems smaller than a softball but bigger than a baseball.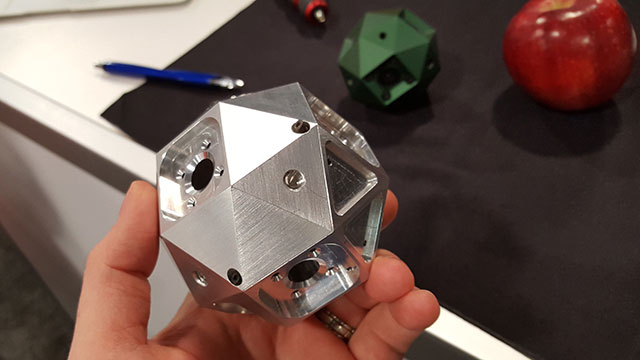 Sphericam 2 will be the only full coverage 360x180 4K capable camera at 60 fps with DNG raw video and global shutter. But these professional features will set you back, the pre-order price is around $2500. While it's a little bit outside the consumer range, that's a great mid-level price point for people who want to get into professional 360 video production without spending $4,000 on a fully outfitted GoPro rig with stitching software.
HumanEyes / VUZE
HumanEyes made some big waves for being the first affordable 3Dx360 camera aimed at the consumer market. However, "under $1000" may not be considered affordable to everyone out there but it's definitely cheaper than the alternatives. For that price, VUZE will offer everything you need to get started including an editing suite, mobile app, stitching, sharing platform and even a Homido VR headset for reviewing your content.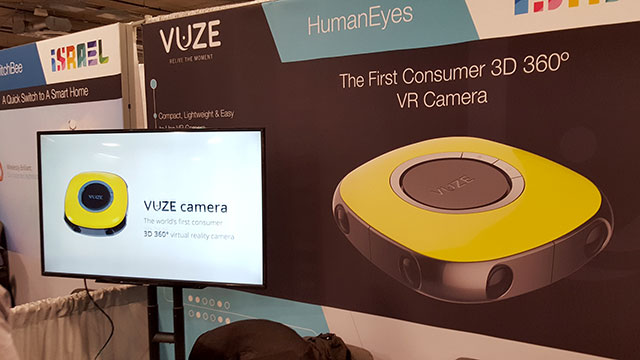 Although I wouldn't use it for commercial work, I would actually not mind owning one to take with me on vacation. The footage examples had lots of visible stitching seams, as you would imagine for a product that needs to be 1 easy step for consumers. There's a visible seam in the back as well as a pinched zenith. Anything too close to the camera also becomes chopped up, which is pretty common due to parallax. The stereo 3D is actually not that bad, fairly comfortable to watch. It's surprisingly decent 3D for a consumer product. When compared to your run of the mill shot on a 360 Heros stereoscopic GoPro holder, I would say this is actually better. However, it pales in comparison to Google Jump - but remember it's under $1,000 and meant for consumers. Google Jump / GoPro Odyssey will cost you 15 times that.
Unfortunately we're still 8 months away from it's release date in August of 2016, which may as well be an eternity in VR. Who knows who else will enter the market during that time, but kudos to these guys for shaking things up!
Sennheiser
Like many others, we were thrilled to hear that Sennheiser was entering the VR market with an end to end solution for 3D audio including a microphone and supporting software they call AMBEO 3D Audio.
Although none of the announcements seem to have any mention of price point, when I asked about the price of the mic I was told "maybe around $1000." No complaints there, it's comparable to the Tetra at that price and much cheaper than some alternatives. The demo experience was created by Visualize and shot with a Freedom 360 Broadcaster, and consisted of 1 scene with a piano being played and another of a man speaking in an apartment. It was my assumption that this mic could be easily hidden in the nadir, and this seems like exactly what they did. Depending on which camera you are using you could probably hide it in the nadir or the zenith within the parallax.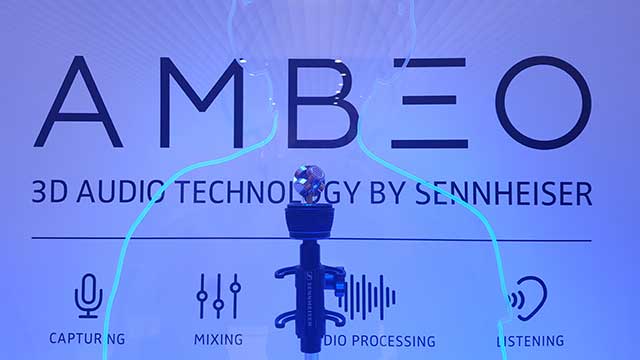 I could definitely tell when I moved my head from left to right that the audio was coming from the right place, especially in the scene with dialog. In comparison to some of the samples I've seen in Milk VR, this was better, however there are definitely some better examples in app experiences from Felix & Paul Studios. But as we know, that's likely a big undertaking in post. Sennheiser admits more platforms need to support 3D audio, but I think this is a great step in the right direction to get more producers recording good audio for VR.
AUDEZE also had a larger and more robust tetrahedral ambisonic this year, but I was unable to listen to any samples and didn't have time to look at it. It boasts much longer range, picking up sounds from several meters away. It comes at a higher price point of $3,995. I've heard audio samples are coming to their website soon.
VRTIFY
Until I found them on the CES exhibitor list, I had never heard of VRTIFY. Their product is a VR music platform for both watching live (or pre-recorded) concerts, or pairing VR visuals and CG environments with your music in spotify. In demonstration videos they were also showing the use of Google Maps panoramas as well as YouTube 360 video. I am not sure how that would work considering YouTube has not made 360 video available via any API, it's possible it was just a concept video.
The live concert examples were absolutely terrible. These were some of the worst stereoscopic 3D 360 videos I've ever seen, instant headache and double vision. The resolution was so low that I could barely even see the performer's face despite my front row seat. Even more curious was the fact that they had a monster DSLR 360 rig on display in the booth, with 18 wide angle Canon L lenses. I can't imagine this rig is actually being used, because the parallax would be terrible to stitch and I don't see how they could even fit this into a crowded venue. Several pictures online show their team posing with a GoPro array, which is likely the real work-horse that was left behind because it doesn't have good investor appeal.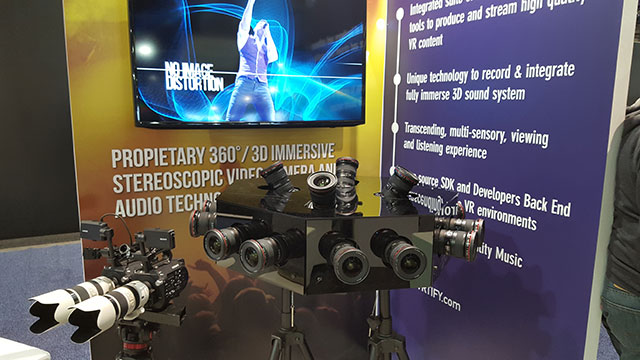 They've raised $3.5m to date and claim another $25m commitment this year (Billboard), maybe they can use some of that money to improve their demo content.
ZEISS
ZEISS had a small booth where they were demonstrating a live monitoring solution for DJI drones. With an app available for iOS or Android and a ZEISS VR ONE headset, you can see your drone camera's point of view. When you move your head, the camera moves with it. I'd be a little bit concerned about how safe it is to operate a large drone while wearing a VR headset. But of course every professional drone operator should probably have a spotter with eyes on the drone.
Although the example was on a DJI Inspire 1, I imagine 360 video shooters could easily just mount the DJI camera and gimbal to a larger custom drone as a monitor. I also don't really understand how it's proprietary to ZEISS at all, although ZEISS is superior quality, the apps work on mobile devices you can pretty much use them within any mobile phone headset.
For Android, you can monitor your drone with VR via Litchi ($19.99), for iPhones you can use CloudlightFPV ($9.99).
Avegant
I finally had a chance to check out the Avegant Glyph, it has eluded me at previous conferences. The version I saw was the consumer release that's available now ($699). The experience was not how I pictured it at all. The actual display is a tiny little rectangle in the middle with black voids on either side. The upper and lower peripheral are still really distracting, and despite messing with it for a few minutes, my demonstrator could not get the device adjusted correctly for me. I had to look down towards the bridge of my nose to see the content. Watching 2D and 3D flat movies in a Samsung Gear VR is a much better experience. Watching 360 videos, hands down, is better in a headset made for VR. I'm not sure what that leaves for the Glyph.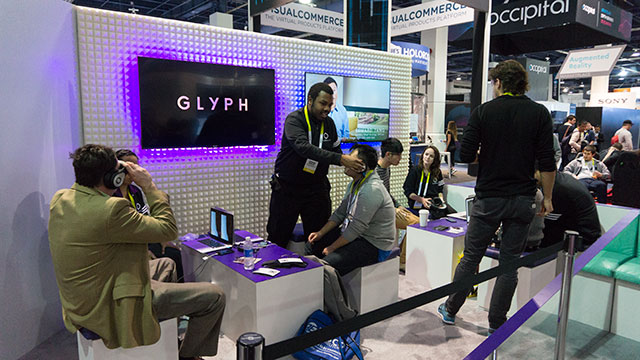 They were also demonstrating a drone monitoring solution, but I can't imagine any scenario where I would want to monitor a drone with Avegant's funky little display. It looked neat in the marketing video they had on loop in the booth, but I don't see a practical application for it.
Other Headsets Galore
First of all, I didn't even try Oculus. I haven't had an Oculus demo since Crescent Bay. The line was 12 million people long every time I checked. When will VR and headset makers figure out that demos should be short? If you can't get your point across and blow somebody's mind in 3 minutes, then you're doing it wrong. There's no reason for somebody to be in a demo room for any longer.
I also didn't bother with Playstation VR or HTC Vive since the majority of the demos center around gaming or CG, and we're typically making cinematic experiences for mobile VR instead. If I want to compare displays, pound for pound, I want to see high resolution 360 video. They're not going to show me that.
IonVR, the makers of a VR headset with hardware that supports a motion sync feature to eliminate sim sickness, have announced a new partnership with Intel. They had an awesome demo utilizing a phone with an Intel RealSense camera on board. This allowed for motion much like a wired Oculus Rift, I could walk, duck, crouch and even reach out in front of myself and paint colors with my hands. Previously this is something that I've only seen demonstrated with wired headsets that have remote tracking cameras, so it's pretty amazing that we can do this with a mobile device.
ImmersiON-VRelia, the makers of an HMD and bluetooth controller combo, told me they're working on a whole line of new headset products. In addition to a phone holder, they're working on a headset with it's own native display. In addition to this, they're also developing a media display platform known as Altspace, where content creators will be able to publish and monetize their work.
The Chinese VR Market is Huge
I couldn't help but try this crazy looking VR chair that DeePoon LLC was demonstrating. The demo video was a CG carnival ride, one of those pendulums that swings back and forth and gains momentum as it goes. This was freakishly realistic. Each swing gave me that same feeling in the pit of my stomach I get from the real experience. I'd love to try something like this with one of our whitewater rafting 360 videos and have the chair simulate hitting massive waves.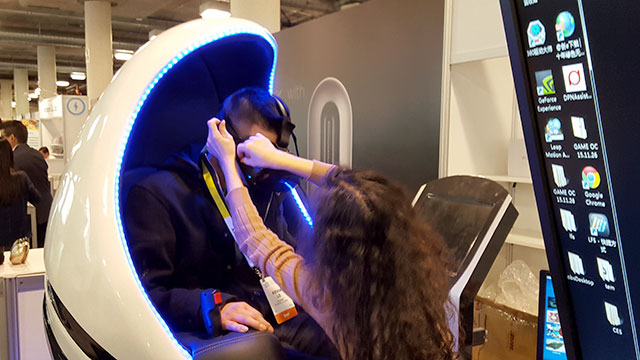 They've also got their own content distribution platform, with a whopping 1.5 million users and estimated 10 million by next year! They've got a bunch of different HMD varieties as well, all which didn't seem to fit my fat American face. This is definitely an eye-opener, they have a huge market in China and people are loving VR and 360 content.
Closing Thoughts
A big theme so far in 2016 is the rift between professional VR production and the consumer market. CES, as expected, was a huge indication of that. There's no doubt that 360 video and VR are now becoming popular among the mainstream audience, and companies are scrambling to bring products to market to meet this demand and ride this wave. Unfortunately, I'm disappointed in a lot of them because they aren't showing good content.
Above all else, it seems to me like finding that next big "killer app" or camera for VR is the only goal for investors and these startups. When it comes to content, they just assume it's all going to come free. I don't blame them for wanting to make money, but what ever happened to just wanting to make good content with a great product? The consumer market for VR now seems to be outpacing the professional market, because we want something with scale so we can make more piles of money. But what happens if consumers don't like it? What if it makes them ill? The hype deflates and you are left with a warehouse full of worthless plastic or an app with a pitiful 200 downloads. Then what?
But on the flip side, I'm excited to see projects like Sphericam 2 get successfully crowd funded. This is a product that's truly built with the professional in mind. It's also great to see companies with precision audio products entering the VR space, everyone should be recording 3D audio all the time. (even if the platforms don't support it yet) It was exciting to see that VR was everywhere this year, 360 cameras and headsets were in several booths, even some that had nothing to do with VR.
2016 is going to be the proving ground and we will start seeing failures, we've already seen a few VR companies up and disappear. We've entered the consumer market, the products are becoming available and we've proclaimed "VR is here!" Now people are going to vote with their eyeballs and their wallets. The content is the hook. It's an exciting time!