Submitted by Matt Rowell on
VR mania was in the air at the Consumer Electronics Show in Las Vegas this January. What happens when a 360º video production company takes their cameras and their VR video examples on the road to CES 2015? They get mobbed like crazy... and it's awesome!
That's what happened to 360 Labs, and we were equally surprised and delighted. We didn't count, but by our estimate we must have shared our video content with nearly 200 people in the course of just one and a half days all while going to exhibitors we wanted to visit. Not much time for sleep in there (Vegas, baby!). We could barely walk 10 feet without being approached by several people who wanted to see our videos and ask about our cameras.
Because of this overwhelming response to our content, we actually missed the chance to meet a few exhibitors on our list. If we missed you, we're terribly sorry. We've learned our lesson for next year, we should have booked 4-5 days at the show. For the time we did have, we saw some pretty amazing stuff, here's a quick recap.
Gearing Up to Demo Our VR
We didn't want to roll out VR with the same exact videos we made last year for desktop and hand-held mobile devices, so we put together 11 special VR cuts for several of the experiences we've captured with multi-camera GoPro arrays. In addition to this, we also had 2-3 new videos that had never been seen before CES. Many of these experiences will be made available for download on our website for your Oculus or Gear VR shortly, although some will only be shown in person and will not be released on our website.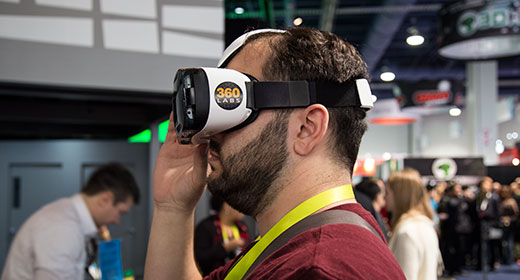 And of course, no trip to CES is complete without several 360º video rigs. The biggest crowd pleaser in our arsenal was the Freedom 360 Explorer, I think it got more attention than most booth babes. We shot several 360º videos of the show which we're in the process of putting together edits for now.
Testing the Motion Sickness Theory
With videos ranging from a sunset on the beach to being strapped to a Lamborghini at 110 mph, it was clear that some of our shots were more uncomfortable than others.
We borrowed Samsung's idea of a comfort rating by adding stars to the icons for our videos, 5 stars being the most comfortable and 1 star being the least. Although people reported that some of the faster videos were intense, they thoroughly enjoyed the experience. No one who watched was too disoriented or uncomfortable to finish a video. It's our opinion that VR should make you feel something, if this means that some video content may buckle your knees… that means it's working as intended.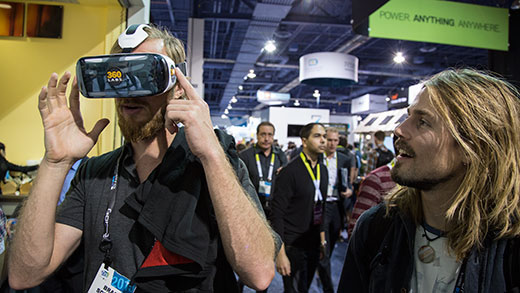 GoPro's Brad Schmidt and Daniel Sherer experience the Grand Canyon.
Samsung and Oculus have been playing it very safe and have been very concerned about motion sickness, as they should be. We were surprised to see that some people actually wanted to watch the crazy clips with our lowest comfort rating (2 stars), it was like a challenge they didn't want to back down from. Coming out of it was like stepping off of a roller coaster. Mark Harrison, Controller of Production for BBC told us, "This is the first time I've actually been interested in VR in three years." If we are trying to be too careful, are we failing to thrill our audience?
The BBC was talking about our clip we've only shown in person this year at CES on the Colorado River in the Grand Canyon, which starts out by treating you to amazing postcard views in calm water shots, but then dumps you through the most dangerous and insane rapid on the river at the end. A lot of our viewers would reach out to grab a nearby colleague to steady themselves, we'd ask them if it's too intense and if they wanted to stop, they'd respond "No no, I can do this!" It was a challenge people would gladly accept, and after that they wanted to see more.
What about Stereoscopic 3D?
Not many people at all asked us about stereoscopic 3Dx360. A few photographers and people in the production business (or looking to start) asked about it, executives from entertainment companies did not. "This is great but it's not 3D," said no one, ever. Most people don't even know the difference.
For anybody who doesn't know the terminology, I'll explain. A typical 360º video is a flat rectangular video projected onto the inside of a sphere. As you look around in a virtual reality headset, you are seeing a bubble of video content. However, there's no depth map or differences between the foreground and background so it's not like a 3D film. But currently in this industry there's a challenge with creating that depth information for 3D and also maintaining a mostly perfect stitch of the 360x180 sphere. Then if you add motion to that, you make it even more difficult.
So typically, the best "real" 3Dx360 shots are static. The camera does not move. They also often limit the movement of subjects between quadrants of the 360, you don't usually see people moving around the camera completely in a polished 3Dx360 shot. Is it worth the trade off to have something in 3D but have so many limitations? Does 3D really even add that much to a 360º video in a VR headset? That's hard to say.
You've also got companies creating mounts for GoPro cameras claiming to be 3Dx360 ready, but I've watched their examples before and something is clearly not right. My eyeballs feel like they're being torn apart, the footage is forcing me to go cross-eyed. In my opinion those add nothing of value to a 2Dx360 video at all. Considering the current limitations of the technology, all of our most exciting experiences that impressed everyone this week at CES would not be possible in 3Dx360. But no one seems to mind that it's missing.
John Carmack has talked about stereoscopic 3D being more compelling for video. But after being at CES and seeing the reactions of 100s of people who saw our demos, we can tell this audience is positively in love with 360º video. So if you are a shooter out there trying to get started in this space, don't be discouraged if you can't get the money to stack 48 Red Scarlet cameras like cord wood and shoot boring static scenes so that your 3D will look natural. Go out there and shoot beautiful 360º video of experiences you love and share them with the world.
Even Mobile Hand-Held 360 Videos Turned Heads
Several of folks we talked to asked us whether or not there was a way to view our content if you don't own a VR headset. I'm surprised that even today, many people do not know about viewing 360º video content on a phone and being able to move that phone around to explore anywhere in the 360x180 frame.
Being able to seamlessly provide content for desktop, mobile, and VR was a huge eye opener for a certain executive at one of the world's leading television networks we spoke with. We like to remind people that they are not limited by the current distribution of VR headsets. There are more than a billion smartphone devices out there right now that are capable of playing back 360º video. Downloadable or stream capable episodes of 360 content could reach this entire audience, which answers the question on everyone's mind - how do we scale this?
Exhibitors We Visited
GoPro
We headed to GoPro in hopes of meeting some of the folks who make our favorite versatile camera for 360º video production, on the way we actually got stopped by GoPro's Brad Schmidt and Daniel Sherer. They watched several of our demos on the Gear VR and complimented our stitching, we were star struck! After that we continued over to the GoPro booth where several GoPro executives had a blast trying our VR videos. We felt nothing but love from the excitement shown by GoPro, you can tell they really care about what their customers create, what an amazing company!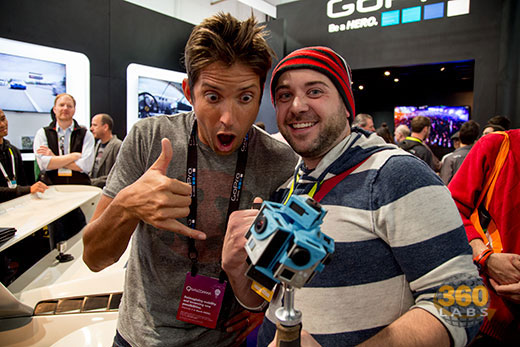 360 Labs' Brad Gill meets GoPro CEO Nick Woodman
If that wasn't enough, Nick Woodman, the head honcho himself showed up at the booth shortly thereafter for an interview spot with CNBC. They posed the same question we did, what is GoPro's plan for VR? Woodman's answer was enthusiastic, although no details were given on product plans. We'd love to see truly full manual controls in future versions of GoPro, perhaps a mounting system, maybe even an all in one multi-lens camera for 360 capture, who knows? One thing is for sure, GoPro is excited about VR. And they're going to sell cameras like crazy in sets of 6 or more in 2015.
Oculus
The Oculus booth was providing demonstrations of Crescent Bay, which was was impressive, the resolution has obviously been improved in a major way. Unfortunately, all demos were in CG, I would have liked to see some live action 360º video on that display but I understand the focus of Oculus is video games. The fit and form factor of this new prototype was much better and the integrated headphones provided good quality sound that really helped me feel a presence.
In another part of the lounge they were fitting people with the Samsung Gear VR for demos, showing the latest shot from Felix & Paul, a spot with Reese Witherspoon from the movie "Wild." Being in close proximity to such a major celebrity in VR was pretty amazing, and girls in backpacks and hiking boots turn me on, I'm not gonna lie! Once you get past the celebrity factor, this shot is pretty much typical for the 3Dx360 we've seen so far from this studio. It's a fixed shot in the middle of a forest, the surrounding trees were kind of in a blur. I thought the wilderness shot in the short "The Recruit" on Samsung's Milk VR did a better job of capturing the woods. The action happens in limited quadrants. More of the same, although stunning, I wanted to see more.
Giroptic
We had a chance to stop by Giroptic but didn't stay for long. We got hands on the camera and looked at a few of the examples. 2048x1024 total video resolution isn't really enough to get us excited, we'd like to see a higher resolution product with a similar form factor at a minimum of 4096x2048 at 60fps. Giroptic was literally shouting about their product over a loudspeaker, which made it nearly unbearable to stay in the booth, so we didn't stick around to ask more questions.
Panono
Panono makes the all in one high resolution pano capture ball, capable of snapping sill panoramic images at as high as 108mp in resolution. We had a chance to see an example shot from the latest prototype and were very impressed by the quality. They're hoping to be ready for public release by May or June, right around IVRPA 2015 - so naturally we suggested they attend the conference! We hope to see you guys there!
Nikon & Nurulize
The biggest crowds at the Nikon booth were there to have their to have photo taken in 360º "Bullet Time" instantly delivered to their smartphone in an interactive object VR experience. 48 Nikon cameras were arranged in an angled circle. Participants, by the hundreds, were asked to enter the camera circle and do something fun. When they did, all the cameras fired instantaneously, images were processed immediately, and the interactive result was deliver to their smart phones less than a minute after. Instant Bullet Time. We talked with the man behind the amazing rig, Stephen Wille Padnos, President of Thoth Systems Inc, who gave us some background on the project, it's challenges, and solutions. The effect was a clear hit with attendees, and the line was far too long for our time budget. Check out the results for three attendees here.
We also met with Nurulize Co-Founder Scott Metzger for a sneak peek at Nu Reality. He showed us Desert Home, which is hands down one of the most amazing quality interior virtual tour/reality experiences we've ever seen. Through a combination of HDR imagery from the Nikon D810 and high end lidar scanning, this demo allowed you to move through an almost flawless photo-realistic space and lean in to see even the greatest detail such as the texture of the fabric on a chair.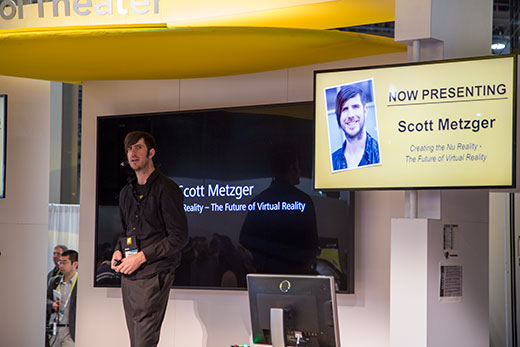 Nurulizer co-founder Scott Metzger
Metzger also gave an informative talk on the process of shooting and post production for Desert Home, which sounds like no easy task! We hope to also see Nurulize join us at this year's IVRPA conference.
Kolor
We told Kolor we saved the best for last, and we weren't lying. We were thrilled to hear that they are now partnering with Arkamys to provide 3D sound integration with AutoPano Video. As Alexandre Jenny explains it, they're working on a full workflow system including the mic and accessories to help producers add 3D sound. We can't wait to use it! We had a chance to watch a demo with this new 3D sound of a basketball player moving and dribbling around the camera while strapped in to noise cancelling headphones and the DK2. It was very impressive, and I hope by this time next year all of our videos have 3D sound.
They also had a live real-time monitor connected to a 360º video camera, a GoPro array with a mount from Freedom360. You could strap into the Oculus DK2 and see yourself down below and wave hello. One of the challenges with 360º video production is the simple fact that it's hard to live monitor footage right now, it's great to see companies like Kolor demonstrating this. It's also clear that broadcast capabilities for live 360 streams are not just a test case anymore, but they're becoming a solid product we can offer to our clients.
Samsung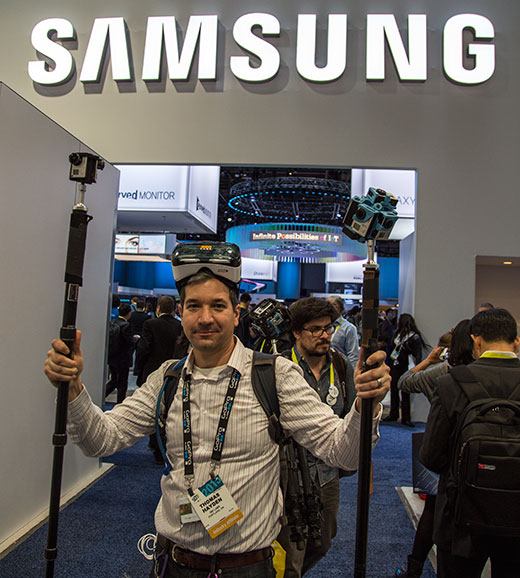 We visited Samsung and had a chance to talk to some nice folks about Milk VR, and as a result we've been activated as a content partner for the portal. We're working to have our videos from the show up and available as soon as they are approved for all of you out there with the Samsung Gear VR. We hoped to find out more about Project Beyond but unfortunately it wasn't being shown, as far as we know. We'd love to get our hands on this new camera system and see what we can come up with.
So Little Time, So Much VR!
I really wanted to get my hands on the Avegant Glyph, but since their booth was relocated at the last minute we did not have time to find the new location before we had to leave for our flight. I was also really bummed out that I didn't have a chance to check out OSVR. We would have also loved to connect with Mozilla on MozVR & ImmersiON VRelia. Again, we apologize if you are in the VR space and we didn't visit you, we got swamped!
We'd like to thank Robert Scoble for the invite to the Yo Suite at the Cosmopolitan. We don't go anywhere without our tech toys, it was business as usual for 360 Labs, everyone who asked got to experience our VR at this party. We found out that not even drunk people get sick when they watch our videos!
The one and a half days we did have at the show were absolutely phenomenal. We're happy to have went and we're genuinely excited to meet so many new friends. Several people had suggested that we make the trip down to Southern California for meetup events. We met with Dylan Watkins from OCVR, we'd love to make our way down there if time allows. This is an amazing community and I really hope that as we see explosive growth in 2015 that we can keep this community atmosphere. After this experience, it's clear that 360 Labs needs to hit the road more often, and we will!