Submitted by Matt Rowell on
People are always asking us what the best budget consumer level 360 camera is, or will be. Unfortunately there's nothing perfect out there, but more and more good solutions are being released every month. Here's a look at the currently available 360 cameras under $1000 that you can buy today. (No vaporware or fundraising campaigns!)
First, a Quick Primer
When you do your own research, you will find that camera manufacturers all have their own unique way of explaining the same thing. First of all, 360x180 is the same thing as 360x360. Claiming 360x360 is kind of a misnomer. There's only 180 degrees from the floor to the ceiling, so we will refer to it as 360x180 from here on out.
Secondly, in my humble opinion the bare minimum resolution and specification for a quality VR viewing experience is 3840x1920 in at least 30 fps, around 30mbps and up with full 360x180 coverage. Sadly, none of the current cameras on the market meet or exceed these specifications. While many of these are more than adequate for fun personal projects, if you want to do serious commercial work you'll have to bite the bullet and spend more money.
Finally, many of these cameras advertise themselves as 4K but do not actually deliver a 4K resolution to the VR headset. Technically, a 2880x2880 frame is 4K given the amount of overall pixels, but to convert these files for VR often means a final resolution of 2880x1440 after de-fishing the video. In our world, we don't call that 4K. Anyway, on to the cameras!
360fly / $399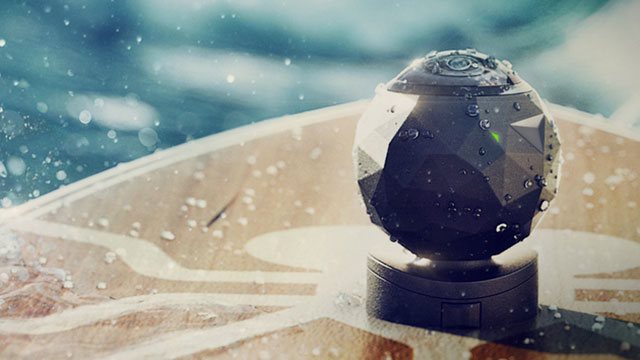 The 360fly is a single lens wide angle camera, it's FOV is limited to 240°. It's maximum resolution of 1504x1504 is a bit lacking, especially for viewing in VR headsets. Video files are in a 20mbps variable bit rate. It's water, dust and shock resistant as well. 360fly also has their own player and publishing apps so that you can edit and share videos "on the fly." They plan to release a "4k" version of this camera with maximum resolution of 2880x2880 this Spring.
| | |
| --- | --- |
| Modes | Video |
| Max FOV | 240° |
| Max Resolution | 1504x1504 (video) |
| Video Bitrate | 20mbps |
| Framerates | 30 |
| Resistance Ratings | Water, Dust, Shock |
| Connectivity | WiFi, Bluetooth, USB |
| Battery | Built In (2+ hours) |
| Memory | 32gb on-board (no expansion) |
Ricoh Theta S / $350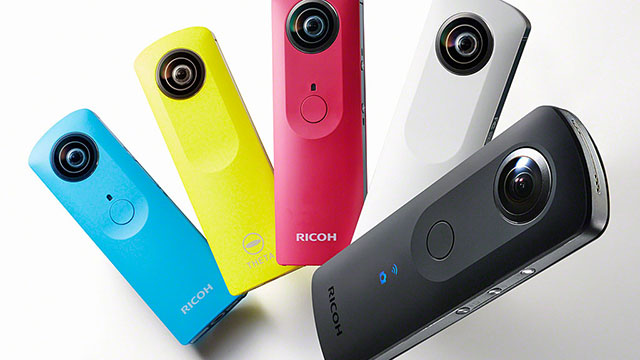 The Ricoh Theta S has a dual 12MP 1/2.3" image sensor providing an interpolated 14.4MP output, with it's own proprietary app for automatic stitching both for mobile and desktop. Maximum photo resolution is up to 5376 x 2688 with video resolution up to 1920x1080 at 30 fps. Over the previous model, the Theta S offers that higher HD frame rate of 30 fps vs. 15 -- but the resolution itself has not increased. We like the Theta because it captures a full 360x180 sphere, but the video resolution leaves much to be desired when viewed in VR.
The biggest benefit the Ricoh Theta has over it's competition would have to be it's ability to capture decent still panoramas. Many panoramic photographers enjoy using a Theta in places where they can't get their bigger DSLR or mirrorless panorama rigs. With an array of manual controls for exposure and HDR brackets too, you've got serious options for tweaking the photo output. The Theta can also live stream video over USB or HDMI, has built in WiFi and 8GB of internal memory.
| | |
| --- | --- |
| Modes | Video, Photo, HDR Photo |
| Max FOV | Full 360° x 180° |
| Max Resolution | 1920x1080 (video), 5376x2688 (photo) |
| Video Bitrate | 16mbps |
| Framerates | 30 |
| Resistance Ratings | None |
| Connectivity | WiFi, USB 2.0, HDMI |
| Battery | Built In (200 photos) |
| Memory | 8gb on-board |
Kodak SP360 4K / $499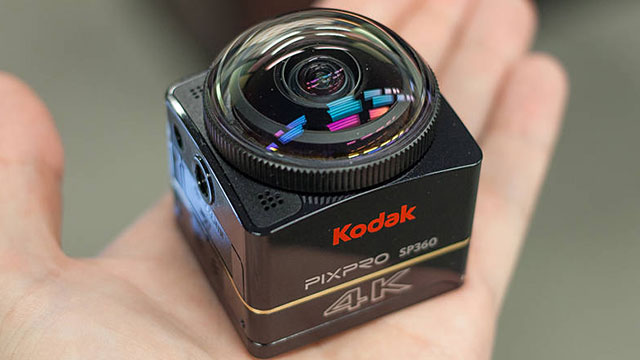 Kodak brands this single lens super wide fisheye camera from JK Imaging. The 4K version just hit the market this Winter, the non-4k version can be had for $299. With a maximum video resolution of 2880x2880, the most resolution you will get out of Kodak SP360 4K footage for VR is 2880x1440 after unwrapping the fisheye image into a equirectangular. Mind you, Kodak's software will truncate it to 1920x960 if you don't unwrap it yourself. Still, it's a significant advantage over competitors who can't break the 2k barrier with an impressive bitrate of 60mbps to match GoPro.
The camera is limited to a 235° field of view, so your end result video is not a 360x180 with full coverage. However, Kodak also offers a back to back package including 2 cameras and the hardware mount accessories and free software to stitch them together.
Kodak has loaded this camera with just about every feature you could imagine including; cold weatherproof (rated for 14°F), shockproof, dust proof, splash resistance, motion sensor, photo burst modes, time lapse modes, 10mp photos, WiFi and NFC (the only one on our list with NFC), and electronic image stabilization.
| | |
| --- | --- |
| Modes | Video, Photo, Timelapse, Motion Sensor, Burst Photo |
| Max FOV | 235° |
| Max Resolution | 2880x2880 (video) |
| Video Bitrate | 60mbps |
| Framerates | 30, 60, 210 |
| Resistance Ratings | cold (14°F), shock, dust, splash |
| Connectivity | WiFi, NFC, USB, HDMI |
| Battery | Removeable (2 hours) |
| Memory | MicroSD Card Slot (Up to 128gb) |
V.360 / $450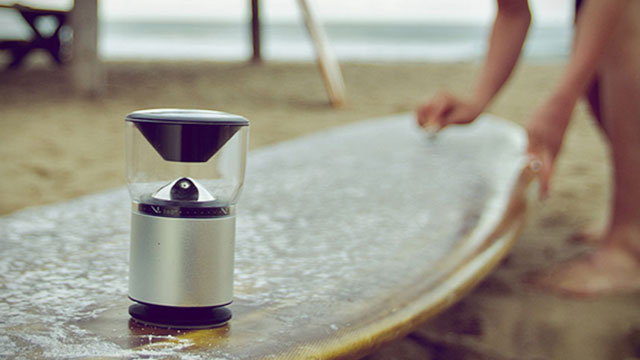 The v.360 is a small parabolic mirror camera, consisting of a single mobile phone camera module, like the one found in the Samsung Galaxy S5. It's packed with lots of features including time-lapse modes, motion detection, sound detection, and various photo & video modes. It's also waterproof. v.360 includes apps to control the camera for iOS and Android, where you can adjust settings like exposure compensation, white balance, resolution and switch modes.
One major drawback is it's vertical FOV of only 60 degrees, meaning when you bring your content into VR you'll have a long strip of 360 video on the horizon. We also found footage to suffer from lots of chromatic aberration. Variable bitrates coming out of the camera were at around 20mbps. Using their own software to convert the video for YouTube yielded an even lower bitrate of 4mbps. Overall, image quality was muddled. Maximum video resolution is 6480x1080.
With it's small footprint and HDMI out, the v.360 can be a decent solution for video conferencing. It's also the only camera on our list with both motion and audio detection, making it an interesting choice for a game camera out in the wild or as surveillance tool.
| | |
| --- | --- |
| Modes | Video, Photo, Burst Photo, Timelapse, Motion Sense, Audio Sense |
| Max FOV | 360° x 60° |
| Max Resolution | 6480x1080 (video & photo) |
| Video Bitrate | 20mbps |
| Framerates | 24, 30 |
| Resistance Ratings | shock, dust, waterproof |
| Connectivity | WiFi, Bluetooth, HDMI, USB 3.0 |
| Battery | Removeable (90 minutes) |
| Memory | MicroSD Card Slot (Up to 128gb) |
ICrealtech Allie Home / $599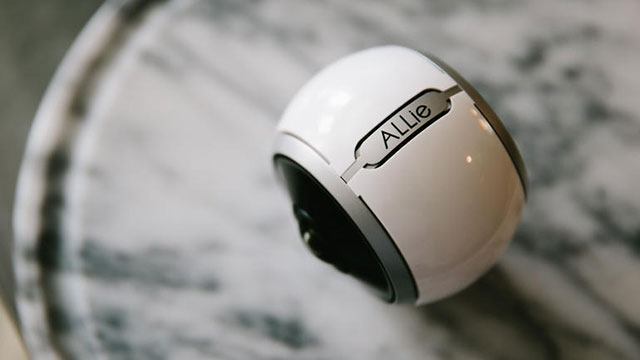 ICrealtech's Allie is a fully spherical 360x180 camera solution that came out of the security industry. It boasts lots of great features like IR illumination, WiFi, bluetooth, in-camera stitching, and a speaker so you can talk through the camera. However, it lacks decent frame rate at only 20 fps with the higher resolution 2048x2048 mode. It's also important to note that Allie requires outlet power, so it may be only applicable for home use or situations where power is nearby. But given it's high price tag, it's low framerate and it's lack of portability due to no battery - it can't really be considered in the action camera category.
| | |
| --- | --- |
| Modes | Video, Photo, Surveillance |
| Max FOV | 360° x 180° |
| Max Resolution | 2048x2048 (video) |
| Video Bitrate | Not specified |
| Framerates | 20 |
| Resistance Ratings | None |
| Connectivity | WiFi, Bluetooth, USB |
| Battery | None (outlet powered) |
| Memory | Internal (4.7gb), Cloud Storage Option |
Bubl / $799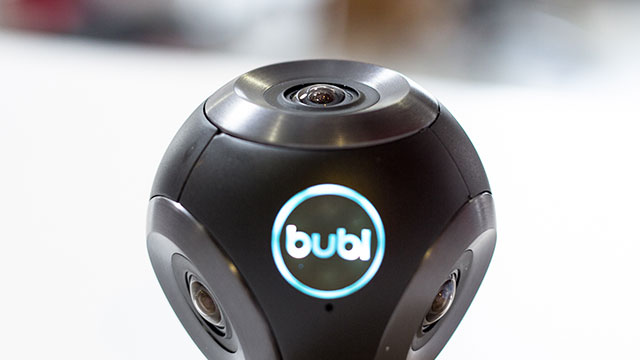 They call it the "World's First 360 Spherical Camera." Coincidentally Bubl was more like the world's 4th or 5th to actually make it to market. Supports 30 fps video up to 1984 x 992, or as much as 2688 x 1344 at 15 fps. Photos at up to 5376 x 2688. It's not advertised as shock proof, splash resistant or dust proof. Unfortunately for Bubl, at a $799 price point this is way too little, too late. Due to it's low resolution and extremely poor frame rate at the highest resolution (which is still not high enough), I don't see it as a viable option for capturing VR content.
| | |
| --- | --- |
| Modes | Video, Photo |
| Max FOV | 360° x 180° |
| Max Resolution | 2688 x 1344 (video at 15 fps), 5376 x 2688 (photo) |
| Video Bitrate | Not specified |
| Framerates | 15, 50 |
| Resistance Ratings | None |
| Connectivity | WiFi, USB 2.0 |
| Battery | Internal (60 minutes) |
| Memory | MicroSD (up to 32gb) |
Build Your Own

You can emulate a 360 camera like a 360fly or Kodak SP360 by installing an aftermarket wide fisheye lens on any GoPro, manufacturers make lenses from 180° all the way up to 280°. The benefit to this, specifically with a Hero4 Black, is the 4k resolution and variety of higher frame rates at 2k resolutions. GoPro's protune settings can also help you achieve superior color correction in post.
There are many sources to buy aftermarket lenses for GoPro, but for improved customer service and examples you can actually view, we recommend looking at either iZugar in Hong Kong or Entaniya in Japan. Entaniya offers the crazy wide 280° lens, and superior optics, although the lenses are very large and heavy. They also cost as much or more than a brand new GoPro Hero4 depending on the model.
To go cheaper, consider trying a knock-off GoPro like the Xiaomi Yi. There's a bit of hacking involved to open up some better options and control on these cameras that are not supported by the default firmware, but aftermarket wide fisheyes can be installed on these just like with GoPro. If you want to take it a step further, you might also look at the Brahma line of holders from VR Experience. They're designed for Xiaomi cameras, so you can buy several of them without breaking the bank and you'll have money left over to buy stitching software.
Personally, I prefer less time at the workbench and more time for paying clients. If you are like me, you can buy a pre-modified GoPro Hero4 from Backbone that will allow you to swap out any number of aftermarket lenses with ease. It'll cost you around $950 for a fully modified Hero4 Black, but you can save a couple hundred by getting the kit and installing it yourself.
Coming Soon
Here's a couple of honorable mentions that didn't make the list, but they're coming soon (with any luck). If you have time to wait, you might consider seeing how these pan out. Nikon's KeyMission 360 camera will have full 360x180 coverage in 4K resolution, frame rates are unknown at this time. I wrote a short bit about it in my CES 2016 write-up here. Giroptic, well known for raising 1.4 million on Kickstarter and then taking forever to finish the product, may finally ship soon. Although, when they do I'm not sure who's going to be excited about it's dated features and lacking 2K resolution.
Samsung is also going to be releasing a 360 camera solution with the Galaxy S7 phone dubbed Samsung Gear 360, with 4k resolution at 30fps. They've said it will be released sometime in Q2, and pricing at this time is unknown. Much like the Ricoh Theta, a companion app on the phone will stitch the video.
The Verdict
Right now I see a huge value in the Ricoh Theta S and the Kodak SP360 4K. It's really just a question of whether or not you've got to have full 360x180 coverage, or if you are willing to mess with back to back Kodaks and stitch them together. Both cameras offer a huge array of features, with Kodak having a slight edge thanks to timelapse and motion detection. Honestly, in 90 days all of this could change, but you aren't going to get any practice at capturing spherical content by waiting around for the perfect camera.
If you have no professional aspirations for 360 video production and you don't have any urgent projects... wait and see what happens. With Nikon's new camera around the corner, Samsung's Gear 360, and others on the horizon you might wish you had saved your money for a newer and better toy. On the other hand, if you want to get into the 360 video production game, you're burning daylight! Don't wait for a camera to build your business model on, by the time the technology catches up, the market will be flooded and you'll be too late.