Submitted by Matt Rowell on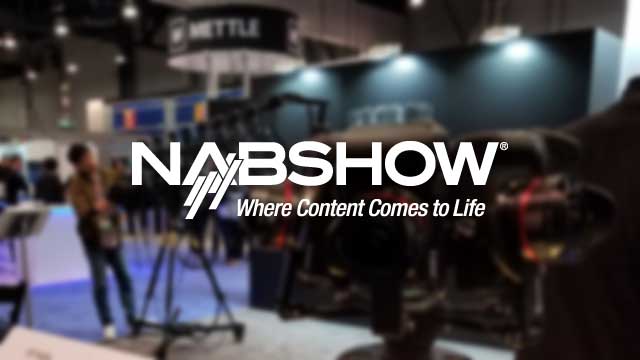 This year at NAB we saw more 360 video camera releases than ever before, with a heavy focus on stereoscopic 3D 360 and stitching solutions. Beyond this, there's new promise of several consumer level back to back 360 cameras hitting the market too. Great new tools for stitching and post production are in development too, it's a great time to be in this industry! Here's our impressions of what we saw.
Z-Cam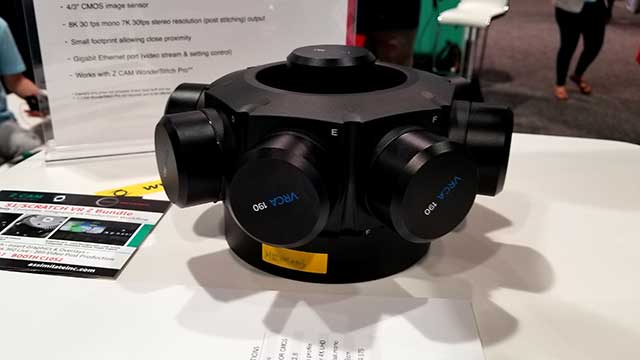 Z-cam is dominating the 360/VR camera market right now with new releases. Many people are in love with the Z-cam S1, and other producers like us are working with the E1 as part of multi-camera arrays. Z had 3 new products on display. The Z-cam V1 is a 9 lens stereoscopic (8 around, 1 on top) 3Dx360 camera, using Z's WonderStitch to process the stereo. For us, the stereo demo here was definitely best in show. The V1 is capable of 7k at 30fps and 4k at 60, with an estimated price point between $30,000 and $40,000.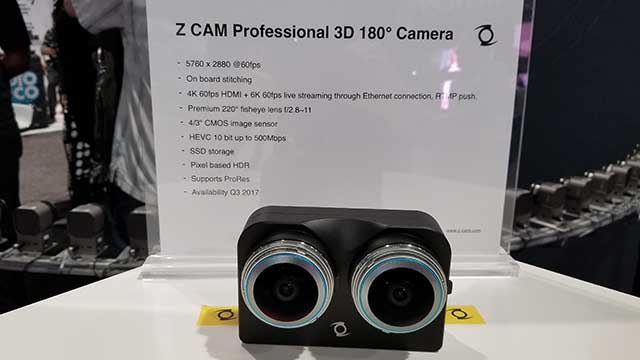 They're also working on a new stereo side by side camera for 180. The prototype was on display, but we weren't able to watch samples from this one. This boasts 10 bit ProRes recording with up to 500mbps, SSD storage, pixel based HDR, live streaming 6k 60fps and on board stitching. Available Q3 2017.
Google Jump / Xiaomi / Yi
Google Jump and Yi Technology were showing off the new Google Jump platform compatible Yi Halo, a stereoscopic 3D 360 camera comprised of a ring of 16 Yi camera modules plus 1 facing up. The upward facing camera is now integrated into Jump's stitching, so there will be no need to patch zenith in post as with GoPro Odyssey. Unfortunately, the nadir is still gone, but often times the ground can be a much easier patch.
The Yi Halo also features an integrated control panel allowing you to see the status of each camera and change settings to all cameras simultaneously, a remote trigger, and a mobile app that allows you to preview each camera (1 at a time). It's capable of 8k and 30fps and 6k at 60, and overall was one of the lightest weighing stereoscopic 360 professional cameras shown at NAB. Still, we felt the footage had a certain "action cam" vibe to it, there's no escaping the look from a small sensor. The price is around $17,000. Estimated to be available late Summer 2017, with an early adopter program you can sign up for.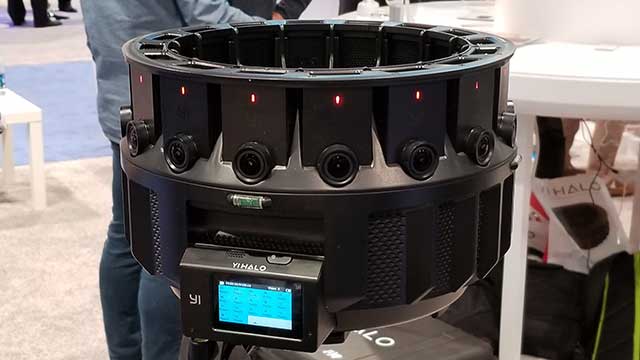 We also had the chance to check out the new Yi 360 VR Camera aimed at consumers, a 2 lens back to back 360 camera with a $399 price point. Despite GoPro's announcement of a similar camera they call Fusion, it was not on display at NAB. Yi's solution is 5.7k, offers live streaming up to 2.5k, and 4k 30fps stitching in camera. Expected in June of 2017.
Kandao
Kandao is also joining the stereoscopic 3D/360 race with 2 of their own horses, the Obsidian R and S, announced back at Facebook's F8. It'll be supported by Facebook Surround, which so far seems to be a lot more open than Google Jump considering it's supporting a number of different cameras.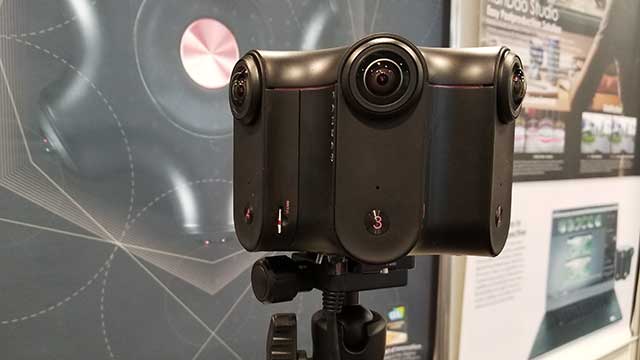 The stereo examples were comfortable to watch and the low light performance in a timelapse they showed us seemed decent. But the most impressive feature is the range of framerates available. The Obsidian R is the high resolution version capable of 8k 30fps stitched stereo output, whereas the S model is for speedy framerates delivering 6k at 60fps or 4k at 120fps. The camera is also rock solid durable, and actually uses Canon type batteries as used in DSLR models. We're looking forward to bringing this rig outdoors into places where we would feel less comfortable bringing bulkier more fragile 3D 360 cameras with low framerates.
Insta360
Insta360 was showing off the new 8k stereoscopic camera they're developing, it'll have a $3000 price point with 8k 30fps stereo output. The low price might seem appealing, but I can't bring myself to watch the footage for more than 30 seconds without feeling eye strain and the beginnings of a headache. Bad stereo for the sake of a low price point is only going to hurt the VR industry. Some people argue that perhaps if a talented post team were able to get their hands on the camera, they might be able to do something better with it, but I can only judge based on what I saw. Hopefully they will continue to improve it.
They also had the previously released Insta360 Nano on display, an iPhone add-on for consumer grade 360 mono video up to 3k resolution at 30fps. Although we likely wouldn't use it for production, it's certainly fun for consumers and products like these will continue to drive interest in the medium. It's currently available for $199.
Jaunt
The Jaunt 1 is probably old news to most, but more recently they have announced the camera is now available for purchase for around $100,000. Previously it was only available if you were working with Jaunt or renting. Despite the sticker shock, Jaunt's latest example stereo footage was also some of the best I saw at the show, and I would consider it well worth it. Jaunt 1 is capable of 8k stereo output up to 120fps. It was the only camera on the floor capable of such high resolution and frame rate together, with 10 stops of dynamic range, amazing spatial audio and a host of other features. I've been a skeptic of the Jaunt hype in the past, but I can honestly say I can't wait to shoot a project with Jaunt 1.
GoPro
Despite GoPro's announcement of the new 2 lens Fusion 360 camera, it was nowhere to be seen at NAB. It boasts 5.2k resolution at 30fps, and we haven't yet learned the price. Just about every Chinese manufacturer had a similar camera with similar specs to announce, but Yi had theirs prominently displayed in the booth. Otherwise, not much new here.
Kolor is up to great stuff at GoPro, with a new Autopano Video Pro 3.0 beta right around the corner. We're especially excited for the D.WARP feature that helps to alleviate parallax issues on stitches with the GoPro Omni. In addition to this, they've announced timecode sync support, new integration features for Nuke/Cara, and integration of the GoPro VR application for live 360 preview while stitching. They expect open beta to start within a few weeks.
iZugar
We had a chance to catch up with our good friend KC Lai over at iZugar, who now has a pre-order ready for the iZugar Z8XL, a stereoscopic 3D 360 camera rig comprised of 8 different Z-cam E1. This is more of a DIY kind of alternative to the Z-cam V1, which may be around a price point of $30,000 - $40,000. The iZugar system for the E1 will only cost around $10,000, including the housing, cameras, and lenses. For those who bought the Z4XL, there will also be an upgrade package available in the coming months to include 4 additional cameras and the mount.
We were impressed with the stereo examples and found them very comfortable to watch. As to be expected from the E1, low light performance and dynamic range were great. Since the rig is frame level synced with cables, it's compatible with optical flow based stitching engines. It outputs around 5400 x 5400 resolution at 30fps.
Ricoh
Ricoh had the new 4k version of the Theta on display under lock and key in a case, without any samples or much of any details other than what was previously announced. We were told that the photo resolution will not change, but the new model will offer 4k streaming 360 video. As far as I now it could have been a Ricoh Theta S with some tape on it.
Panasonic
Panasonic was showing their new 4 lens live streaming 360 coffee cup camera in their booth. We were impressed by the picture quality in low light even in the darker areas of the conference halls. Since the camera is designed from the ground up for live streaming broadcast, the camera body itself does not actually record. It'll ouput uncompressed 4k 360 video at 30fps for live streaming, release dates are still not final.
Sennheiser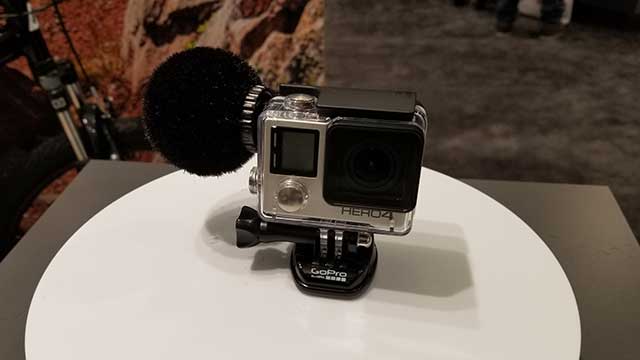 Sennheiser had an interesting new GoPro accessory that we look forward to trying, the MKE 2 is a new waterproof microphone that integrates into the back of a GoPro underwater case. It fits a Hero4 Black, and connects directly to the USB port with it's own case backing and is rated IPX7 waterproof (submersible up to a few feet). We could see this possibly being useful as part of a modified 360 camera rig in situations where the camera could be submerged or drenched. As we all know, audio quality is terrible with underwater housings.
Mettle
The big news from Mettle this year was a partnership with Facebook Surround on new plugins that will help you create VFX for depth-map 360 videos. Unless you've been hiding under a rock lately, you may have already read Facebook's announcements from F8 that they will begin to support depth map features in the Facebook 360 player and support a variety of new cameras that can record depth map data.
Mettle's Adobe plugins will allow you to utilize this depth map data for really incredible effects that will allow you to place objects in the scene, or even fake a depth of field in your shot to simulate a lens with a wide open aperture. We were absolutely blown away by how great this looks, even in it's early stages.
Boris FX / Mocha
We managed to catch up with Boris FX's Martin Brennard on the latest with Mocha. As many of you may already know, they're working on 360 stereoscopic support for the latest version of Mocha VR and plan to be in beta within just a couple weeks. In fact, they had hoped to have it ready for the show, but unfortunately it still needed some work. Martin was kind enough to show us a lot of great time saving techniques that we hope to incorporate in our workflow, new tutorial videos on those will be posted soon.
Mistika VR
We discovered Mistika by accident while wandering the show floor when we noticed somebody was stitching video in an application we've never seen before. Mistika VR is a real-time affordable optical flow stitching solution that we can't wait to get our hands on. With a price point of around $60/mo per license, it's a welcomed competition to the likes of Nuke/Cara and cloud based solutions where you pay per processing each shot. What's more, it's also extremely fast. Public beta will be announced soon.
To Conclude…
With all of these new camera options, my head is spinning. I think we're getting much closer to the feasibility of 3D/360 stereo in mainstream today, and as more people purchase VR headsets that audience is growing at a steady pace. For a lot of smaller production companies, it's an expensive undertaking, but thankfully there are many options now and competition continues to drive prices down.
That said, the consumer market has a long way to go. Right now everybody seems to be rushing to market to grab some of that cash, despite worrying about how the people using their cameras will stabilize the footage, correct the color and exposure, and record good quality sound.
With all of this competition, it'll be interesting to see who comes out on top. One thing is for sure, it's a great time to be a cinematic VR producer, we've got more options than ever before and it only seems to be getting better and better!