Oculus Connect 6 went down last week with tons of new announcements that are very exciting for the virtual reality industry as a whole. We dove into all of the news to handpick a few selections that made the top of our list.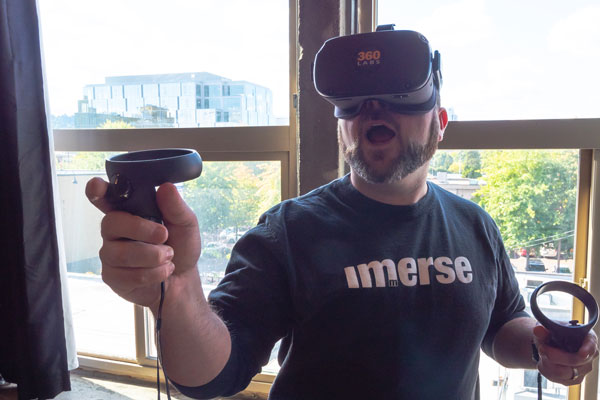 Oculus Link
Oculus Link is a new development in the Oculus Quest that will allow users to plug into their gaming computer to access Oculus Rift and Rift S experiences. Oculus Quest owners will be able to use the standard USB-C cable that came with the headset and use it just like the Oculus Rift. [We wondered why the cable that came with the Quest was so long… and now we know!]
The main difference here from the Rift or Rift S is that the tracking on the Quest is coming from the headset instead of sensors in front of you. This has made playing some games and experiences on the Quest slightly different in the way that you can move your body or use the controls. Oculus also announced that they would eventually like to see cable-less tethering to PCs.
Hand Tracking for Quest
Oculus is also planning to release hand tracking so that users of the Oculus Quest will be able to navigate without using the remotes. Giving the user the ability to see their own hand placements will prove to give a more immersive experience along with assisting with more real life like motions.
Oculus Media Studio
Oculus Media Studio is a new central media hub that allows content creators to upload their experiences to Oculus through a common dashboard. The videos will then be discovered in VR through the Explore Feed in the Home menu. Later this year the same content will be pushed through the Oculus TV channel as well. Similar to YouTube and Facebook, the Oculus Media Studio will provide a unique URL for each experience which creates an easy way for users to find the landing pages.
Using this dashboard, creators will be able to publish 2D trailers for their content directly to Facebook to help build their audience. Oculus continues to push out new updates for the user experience. We are excited for the growth with the Quest and the Rift/Rift S because it allows us to be more creative with how the content is delivered. Some great new applications are allowing users in the Quest to start a journey in a 6DoF menu to then dive into 360 video and VR 180 content.
We are stoked about these new announcments because we are ready to build for this environment! It opens up so many possibilities for use cases and lets us know that VR... is just beginning.