Submitted by Matt Rowell on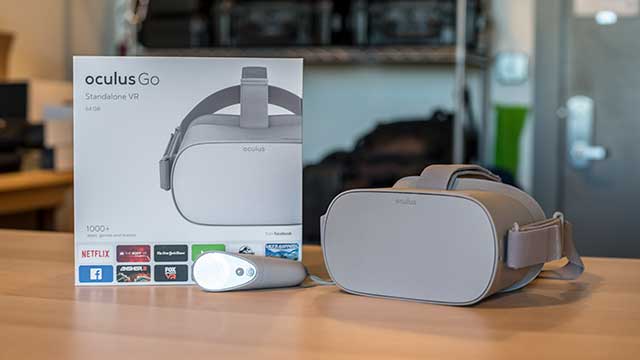 One of the biggest hurdles we have to overcome with bringing VR mainstream is the price of a high quality experience. Until recently, high resolution and low latency cinematic VR content was only available to people with expensive Android smartphones. The advent of the Oculus Go changes all of this, bringing a 2560x1440 VR headset display to an all-in-one package (not a phone on your face) for just $199.
This device has the potential to bring high quality content into the homes of millions, for a fraction of the price of a Samsung Gear VR with a newer model Galaxy phone. Critics might say it's not as good as the upcoming 6dof (6 degrees of freedom) HTC Vive Focus, but at $199 it's only a third of the price. Everyone has to start somewhere. Consumers have to learn to crawl in VR before they can walk, and walk before they can run. In this case, crawling is a simple motion controller. For now, it's a step in the right direction.
Setting it Up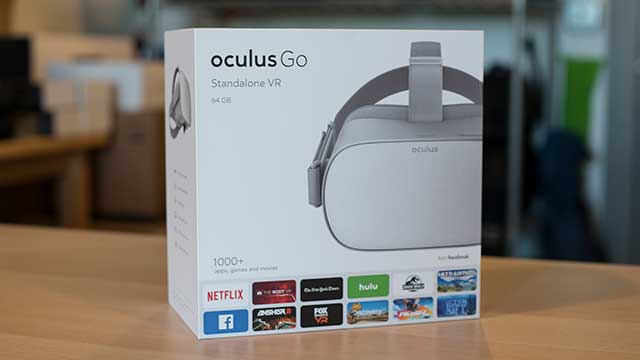 Like many products, Oculus Go comes in a box. In order to use the product, you'll want to remove it from the box. Inside the box you'll find your Oculus Go headset, your motion controller, a battery for the controller, a USB cable charger and some useless paper manuals printed in 2pt font that will probably go directly to your recycling bin.
Setup requires pairing the Go with your smartphone via Bluetooth. It's funny how we've been waiting all this time for an all-in-one headset to ditch this concept of strapping our phones to our faces, but the first instruction you find in the box is "Grab your phone to get started" Alright then.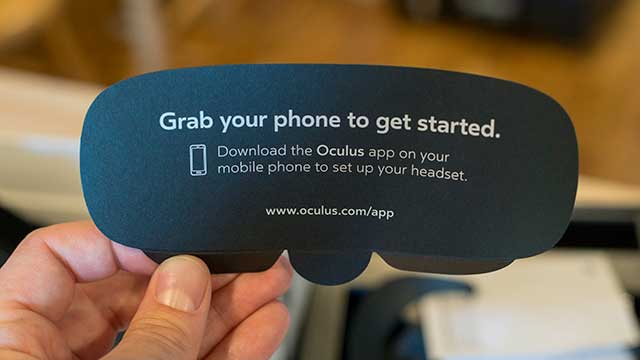 Setup was fairly easy, once we located the correct app. This was a bit confusing because we already had Oculus for Gear VR installed. Don't confuse this app with the one you need to download for Oculus Go when pairing your device, they're different. With any luck, we'll get twice the notifications now too!
Content is easily side-loaded using the provided USB cable connected to a computer, but we did have to grant permission within the headset to allow access to data before it would allow us to copy files. Other than that, this process is not different than side-loading to a phone.
Ergonomics and Feel
Overall we found the headset to be very comfortable and lightweight, a very welcomed sight after seeing so many of the newer generations headsets getting bigger and more ridiculous with each release.
The headset itself has only a headphone jack and USB port, there are no buttons for navigation - all navigation and control is handled through the included motion remote. On top, you'll find a power button and volume control. The remote was easy to use, automatically paired and seemed to be very easily calibrated right off the bat. This experience was simple and painless.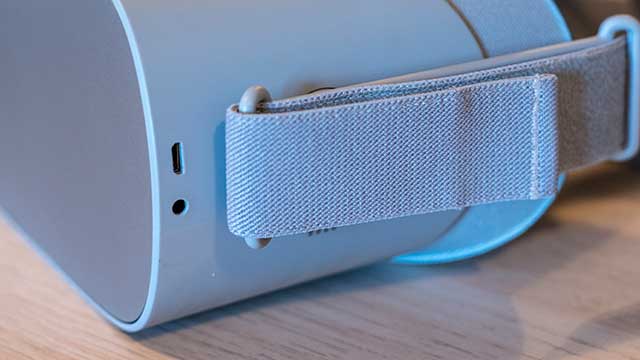 We noticed a bit of light leak on the bottom around the nose, but it wasn't nearly as distracting and annoying as the light leak from Google's Daydream phone holder. This piece can sometimes be the most uncomfortable part of any headset, so I can see why they made it nice and large for those of us with big honkin' noses.
Under the Hood
The resolution of the Oculus Go screen is 2560x1440, similar to the screen found on a Samsung Galaxy S7, with 538ppi (pixels per inch). Although the displays are similar, lenses on the Oculus Go are superior quality.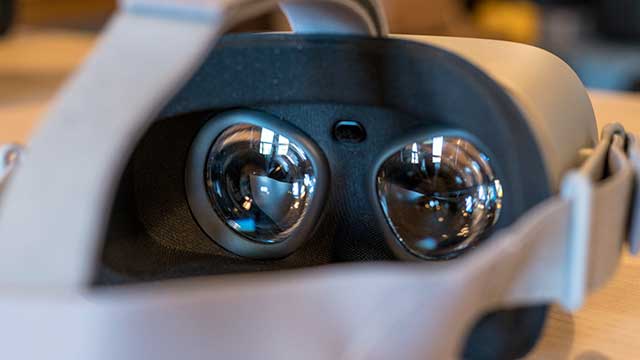 We did notice that our content looked a little more washed out, this might be due to the fact that the display is LCD instead of OLED, the blacks don't seem to be as dark as they could be. The refresh rate is also 72hz as opposed to 60hz on most phone-based VR headsets, meaning it should feel more responsive and natural with less latency as you look around.
The Go's Qualcomm Snapdragon 821 processor is also on par with that of a two year old Samsung Galaxy phone, although since the device is not running phone processes in the background, plenty of efficiency is gained. We found that Oculus Go could play higher resolution 360 videos than our Samsung phones with similar processors.
Oculus rates battery life at around 1.5 to 2 hours when playing games or from 2 to 2.5 hours when watching videos. Memory is all internal with no option for an SD card, they come with either 32 or 64GB depending on which model you purchase.
360 Video Tests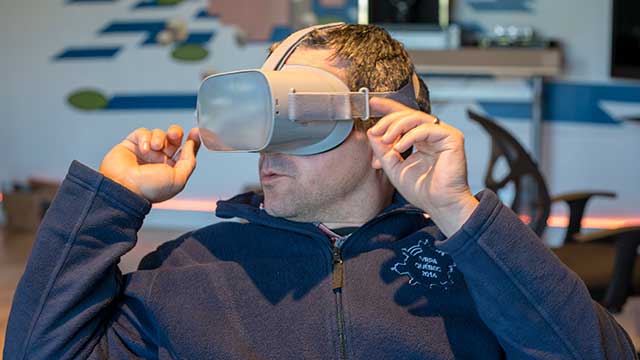 The most exciting thing we've found with the Oculus Go is that we're no longer stuck with the pixel resolution limitations we have with many US based Samsung Gear VR phones. Many Gear VR ready phones can only support up to 2160 vertical pixels, meaning that stereoscopic 1:1 content stacked top/bottom would be limited to 2160x2160. This is not the case with Oculus Go, we've tested up to 4096x4096 stereo 3D content without trouble.
We were able to get the following frame-rates and codecs to work properly when playing in the Oculus Video app:
4096x4096 Stereo, H.265, 60mbps, 30fps
4096x2048, H.264, 40mbps, 60fps
4096x2048, H.264, 60mbps, 30fps
4069x4096 stereo at 60fps was playing back, but at a slow framerate. Unfortunately we couldn't get mono content to play smooth at 6144x3072 or even 5760x2280 resolution, so a Samsung Gear VR with an Exynos processor phone would have the edge here and outperform the Go. If you want to spend $700-800 on an unlocked Samsung, you'll want to go that route if every pixel counts.
Spatial audio caused some problems too, we had playback issues lately with content muxed with Facebook Spatial Workstation. The Oculus Go is no exception, unfortunately. Our spatial audio content was falling out of sync and many of our spatialized tracks seemed to be playing duplicate with an echo. However, Facebook just recently announced an update for Spatial Workstation that may address some of these issues. But despite the platform, spatial audio implementation in VR is a bit of a dumpster fire right now. Hopefully we'll see standards and improvements soon.
Available Apps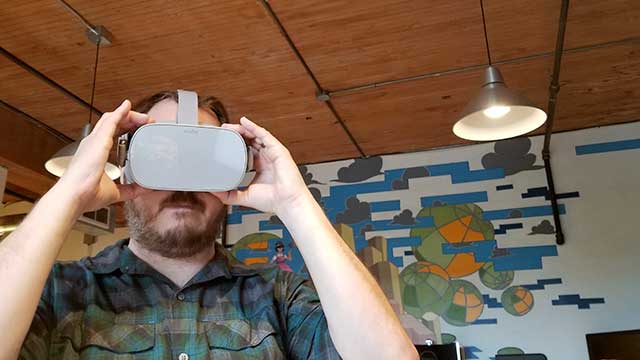 One of the first questions that came to mind when the Go was announced for us - can it support Facebook Spaces? Sadly, the answer is no. Although Oculus has introduced a similar app they call Rooms, where you can hang out with people (their avatars) in VR space. I'm not really sure why they couldn't just include 3dof users into the 6dof Facebook Spaces universe. I guess for now we're just going to make a new app for every device. It's like late 1990s web development all over again.
Gone are many of the Samsung specific apps that we love so much, like Samsung VR and Samsung Internet. But other popular 360 video players like Skybox VR are available. If I had Samsung VR, my mach1 spatial videos would play back and sound amazing.
Conclusion
To wrap it up, we're really excited for the Oculus Go. Before this, you would have to buy a $700 phone and a $100 headset to experience high end VR and 360 video. So many of our friends who aren't Samsung phone users have never seen our work outside of a Google Cardboard, and for those of us who know, that's just wrong! They deserve better! The Oculus Go will finally bring a reasonably priced high quality VR display to the mass audience.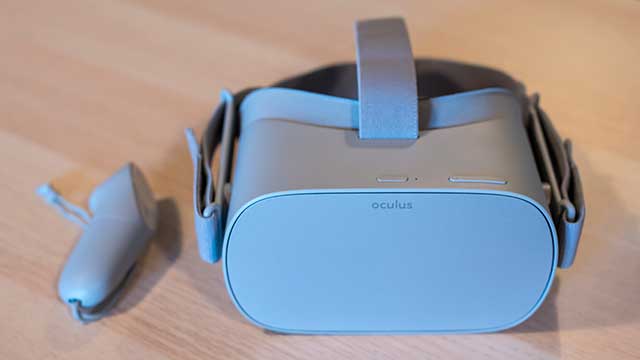 Companies looking to demo content at trade shows and for other marketing purposes will find these devices are much easier to work with than the Samsung Gear VR, and at the $200 price point you can buy 4 of them for the same price as a high end Samsung phone and Gear VR headset. This is exactly what our clients were looking for.
We think the Oculus Go launch will be a major push for VR in general, especially for 360 video and photo content. If you aren't sharing your 360 content on Facebook, you should be, because that audience will have direct access to content from Facebook within the Oculus Go. It's also a great time to start thinking about porting your apps to Oculus. We have every reason to believe that the Oculus Go will be a big hit!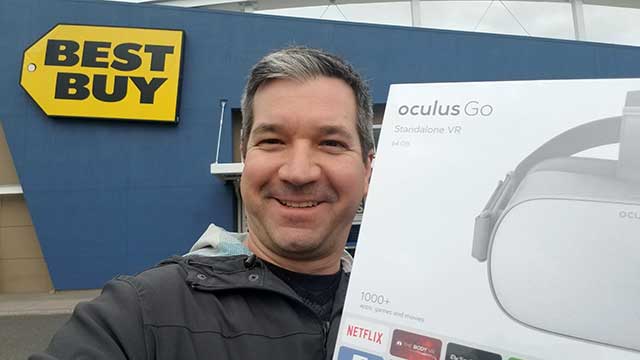 You can snag your Oculus Go at Best Buy, Amazon, or direct from Oculus. The 32GB version will run you $199, or $249 for the 64GB version.