Submitted by Matt Rowell on
Even though 2016 may not quite have been the "Year of VR" we expected it to be, it was certainly a very exciting year for 360 video. Now that many of the new VR headsets have made official consumer releases, we're finally starting to see some sales data trickle in. While the potential audience for stand-alone HMDs is growing at a mediocre pace, the number of mobile devices capable of consuming VR or 360 video content has skyrocketed.
These are numbers from a recent report released in December 2016 by SuperData, according to the report sales of VR products were estimated as follows through 2016: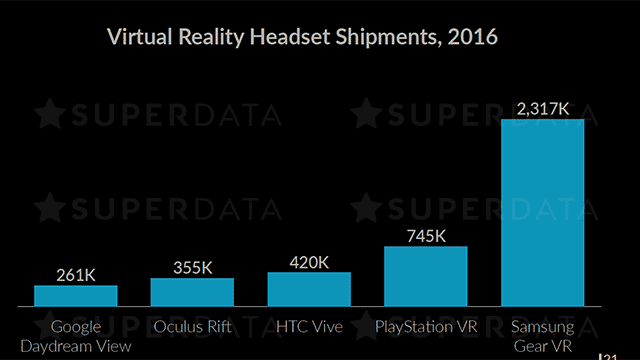 88.4M Google Cardboard Units (not pictured in graph)
2.3M Samsung Gear VR
745k Playstation VR
420k HTC Vive
355k Oculus
261k Google Daydream
Mobile VR For the Win
These numbers obviously show that mobile VR was more popular in 2016 by a landslide. Samsung Gear VR had 2.3 million in sales, although Samsung reported they shipped 5 million at CES this January. This is nearly 6 times more than the Oculus Rift, which is tethered and requires a powerful gaming PC to run it. Google's own mobile based VR platform that debuted on the Pixel, Daydream, came in last but had only just launched in November.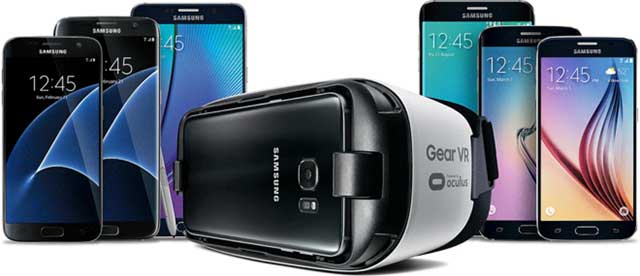 The numbers from Google Cardboard are absolutely staggering! However, it's only fair to mention that most Google Cardboards are purchased by brands to be given away for free. This is in no way an accurate measurement of audience. Half of those 88.4 million Google Cardboards could still be folded up in boxes in a stock room somewhere. Still, this means potentially tens of millions of smartphone users who had no means of watching VR through a headset last year, will now have the ability to watch VR video content in an HMD today.
Ditch the Wires
But why were the high end HMD sales so dismal? Experts say perhaps it's a lack of content or a "killer app." It's hard to put your neck out on the line and spend between $500 and $800 on technology with no guarantee that there's an absolute "must have" game or app. Others say the prices need to come down considerably, on both the headset itself and the hardware required to run it.
But I have a different opinion. I think tethered headsets were a beta product, to really enjoy VR we need to ditch the wires. The fact that mobile trounced wired HMD products in 2016 goes to show that people want convenience. Obviously HTC recognizes this, they just announced wireless accessories for the Vive at CES.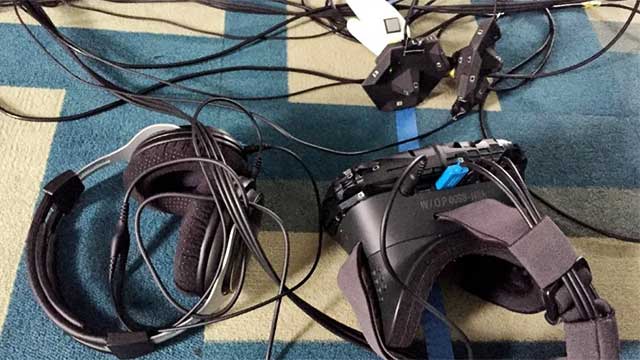 Source: UploadVR.
How many households today are still buying desktop PCs anyway? It's all about being on the go and accessing your data everywhere you are with your tablet, your smartphone, or maybe your laptop if you do any CPU intensive work. But for home entertainment, who wants to buy a gaming PC today? Maybe 10 years ago.
I was very involved in the video gaming industry in the late 90s and early 2000s, even back then at E3 it seemed like consoles were taking over and crowding out the PC gaming market. So it's no wonder Playstation VR sold more units than Oculus and HTC Vive combined. PC gaming is a niche market, only for the hardest of hardcore gamers. It's enough to cause any VC to run screaming.
VR is Held to Impossible Standards
The success of VR is being held to a very high standard. It seems like everyone wants to compare it to the emergence of the iPhone. If it's not an instant success with 1 million sales in the first weekend, obviously it's a failure, right? Wrong. We live in a different time, even compared to just 10 years ago in 2007. We now have 100% transparency with a lot of our products. We crowd fund them. We see every iteration and version, we give feedback direct to the manufacturer about how to fix them. People already had mobile phones when Apple released the iPhone, they weren't inventing an entirely new medium. That kind of movement takes time.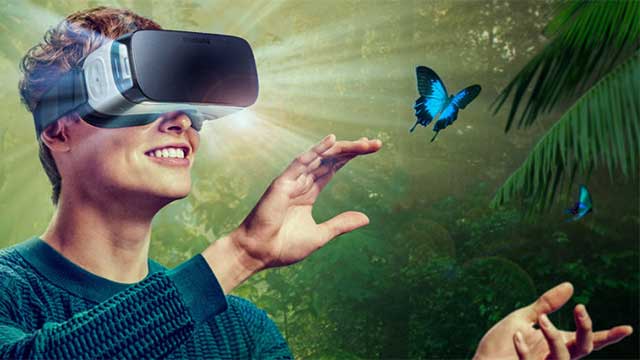 All your hopes and dreams will come true, like this guy!
Combine that with the onslaught of hype and empty promises from a bazillion startups in the VR space. VR is the cure for everything that ails you, it seems. It's a modern day equivalent to snake oil. If you want to do anything from open heart surgery to learning how to make a pizza, VR has it for you. But we lack any sort of proof or viable data beyond the buzzwords these folks paste into their WordPress templates on whether or not these use cases for VR are actually useful for anything at all.
It's clear that 2017 will be the year we all need to put up or shut up. Hardware will have to become less cumbersome and easier to afford. Studies will prove or disprove whether or not VR is enriching and improving our lives. We've heard of such studies happening at MIT, Harvard and Berkeley just to name a few. Many startups will fail. Lots of impatient investors will cut their losses. But those of us left standing will be stronger. This is an ongoing process where we are learning from our mistakes and finding out what works, and I truly believe we will discover immense value in this medium. The thing is, it won't happen over night.
What Can We Do Now?
Some critics say that 360 video is not VR. But honestly, when it comes to reaching a large audience and having a huge potential for viral impact, this is pretty much the best thing VR has going for itself right now. I've heard people call 360 video the "gateway drug" of VR, once you get a taste of what kinds of experiences you can have in these headsets, you want more.
For the past year we've been advising our clients that doing a cinematic VR project is a great way to get into entry level VR without risking too much, while having the potential to reach the largest audiences. At least for now, it seems like we'll have to continue to harvest this low hanging fruit. But maybe it's more than that. We're establishing relationships and building a fanbase of forward thinking early adopters by putting this content out there. When the time comes that VR reaches that mass market status that we all expect, we'll be 1 step ahead.