Submitted by Matt Rowell on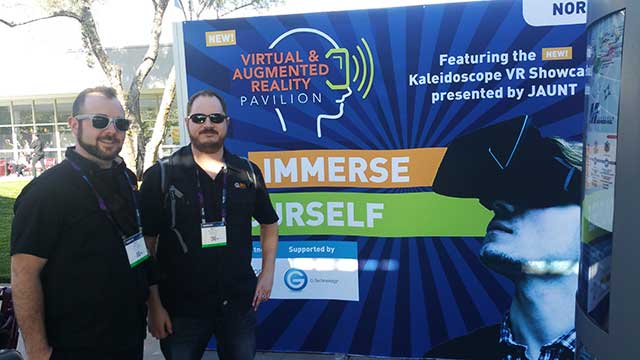 NAB really proved to be a huge conference for cinematic VR this year. With an entire VR pavilion dedicated to VR brands and products, it's presence at this show would not go unnoticed. Even before we entered the grounds, I could see an ad for Nokia OZO outside the conference. Themes this year were heavy on live streaming, live stitching, and 360 cameras. The whole 360 Labs team went down to the conference for 3 days. Here's just a little bit about what we saw.
VideoBlocks & 360 Labs
Stock video provider VideoBlocks announced a new service selling 360 video footage for VR content. We were among the first providers to offer stock content through the platform as part of the NAB announcement. Buyers can browse the footage and watch it in VideoBlocks' own 360 player, most clips are 4k equirectangular.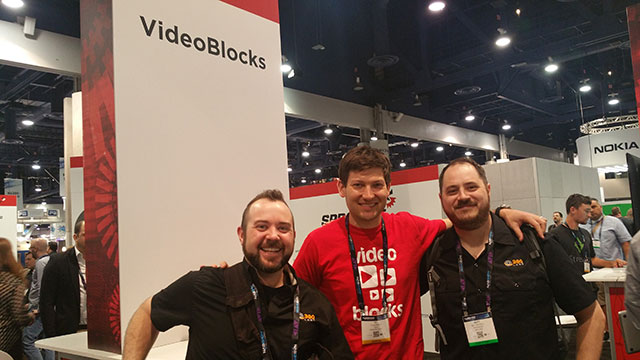 You can see clips from 360 Labs here. We're only just getting started, with a backlog of hundreds of shots in our library to sort through. VideoBlocks has a unique business model in that they only charge membership fees for accessing the library of content, but 100% of all sales go to the content creator. It's definitely worth checking out if you are looking for a place to sell your stock clips.
GoPro
GoPro finally spilled the beans about their six camera genlock solution, GoPro Omni. For those who don't know, Omni takes six Hero4 and allows you to control and genlock all cameras within the rig by a master camera. It cuts down on time, and gives us that much needed sync we need for a better stitch.
Pricing was announced as well. For $4,999 you get the Omni mount, 6 GoPro Hero4 (each with batteries and cables, lens covers, 32gb SD cards), a GoPro Smart Remote, a 7 port USB hub with 6 card readers, an external battery for the entire rig and it's charger, a waterproof hard case and the Kolor software license for stitching and post production workflow is included. For $1499, you get the rig by itself with the case, so you can add your own cameras.
Kolor also announced that rolling shutter compensation would be released in the upcoming version 2.5 of Autopano Video, but for the moment only for GoPro Omni rigs. Other features will include Apple ProRes support and replacing missing videos within an existing project. Kolor Eyes player has also been rebranded as GoPro VR player. They're extending the Adobe Premiere plugin features by allowing you to level the horizon as well, and convert 2D objects like titles or logos to equirectangular.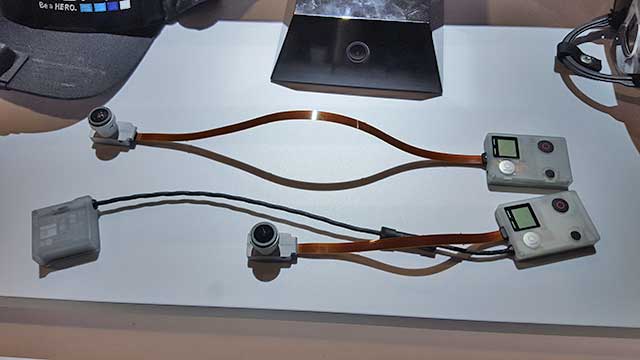 We were also intrigued by the technology GoPro Custom was showing. With extension cables, they are able to build out specialized camera systems into installations, like this motorcycle. This opens up a lot of interesting possibilities for custom 360 rigs.
VideoStitch's New Orah 4i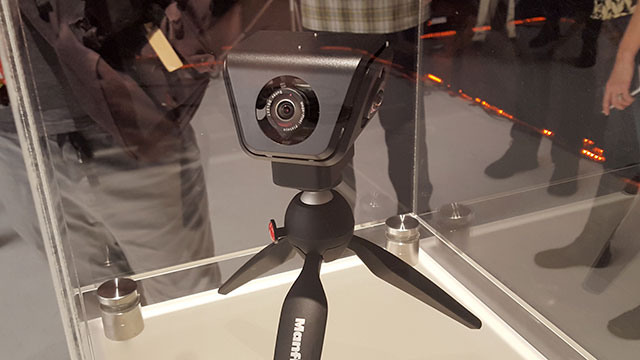 VideoStitch announced their new 360 live streaming camera, the Orah 4i, at a launch party event in a nearby photo studio. They were showing the live feed to participants in an HMD at the location as one of YouTube's first live 360 video streams. I pulled it up on my smart phone and was pleasantly surprised at how quickly it loaded. At a price point of around $1795 introductory and MSRP $3,595, it seems like a great value for live streaming over the company's previous offering, Vahana VR. You get everything you need from streaming at this price point, including the streaming box & camera. Vahana VR is $2,195/year to license the software alone.
We found the stream to be quick loading and responsive, although the dark room and the varied lighting conditions per quadrant did show off some of the camera's weaknesses. You can notice the difference in color and exposure between each lens, and dynamic range wasn't very impressive. Stitching lines were visible as people moved in close - although they were very minimized. You can watch a recorded version of the stream here.
Koncept VR / Freedom 360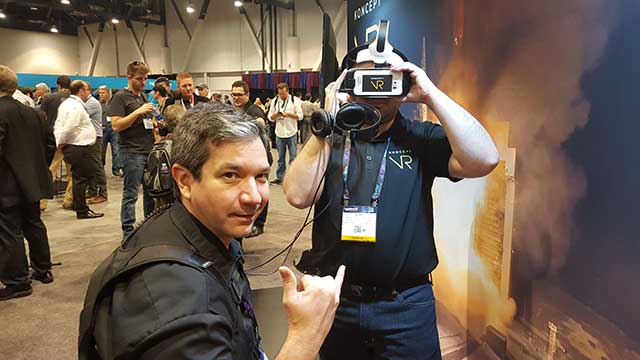 Koncept VR / Freedom 360 had one of our favorite content demos at the show. They took this amazing footage of a ULA rocket launch and synced it with a rumble pack that could shake your entire core as the rocket blasted off. We've thought about using technology like this for some of the racing and whitewater footage we've done, it's great to see it in practice here, and working well. As always, Freedom 360 was a hub of activity and was a natural gathering place for many of our colleagues in the industry. It was great to see friendly familiar faces.
Indiecam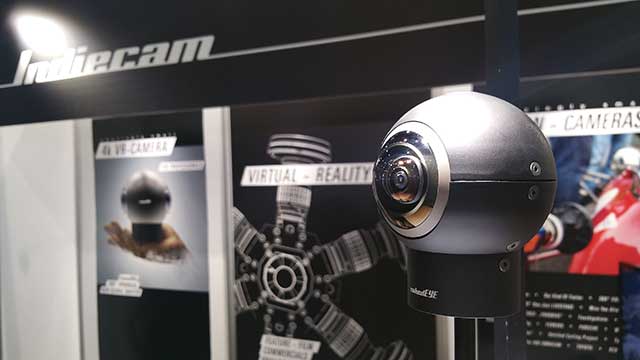 We stopped in to visit Indiecam to find they were showing a 4k back to back lensed global shutter 360 camera. The nakedEye utilizes lenses from Entaniya, so we know the optics are top notch. The specs boast large format square sensors, high dynamic range, excellent low-light performance and CinemaDNG RAW. Unfortunately, they didn't have any example footage to show in the booth, nor do they have any on their website. Although we know very little, this might be a good one to watch considering it's promised specs.
Nokia OZO
Last January, I saw Nokia OZO footage demonstrated for the first time. I mentioned that the quality of the stereoscopic 3D left me wanting more, and after seeing newer demos I can say that not much has changed.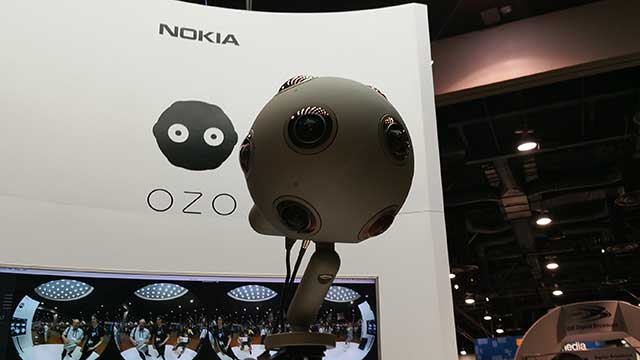 Nokia was showing a live stream 3D stereoscopic broadcast from outside in the parking lot in a tent, as they conducted interviews. They also had a couple of new clips including a great wilderness shot where a giant bear walks into a camp site. I left the demos feeling a little bit nauseated, I still don't feel like the stereo is right. I still feel like we need twice the resolution or a better delivery platform for stereoscopic 3D to look good in an HMD. But companies are pushing to market nonetheless. Too soon? Maybe.
Nokia also got a lot of kickback from the community about the their booth babes and the "atomic wedgie" space suits they made them wear. There's a lot of concern in VR and other technology industries about sexism, and Nokia has made a poor choice here by choosing to market their product in this way. Professionals looking to spend a large sum of money on a camera should be more concerned about camera specifications than scantily clad women.
I feel like Nokia has a long way to go with OZO, but it seems like they will continue to push the product to market. At $60,000 price point, it seems like producers expected more from this camera. It was explained to me that you're getting more than just a camera, it's a whole ecosystem from shooting to post. But considering most people have to do their own post and use their own tools, software, and workflow to make the footage passable - where's the added value from Nokia here?
Quantum Leap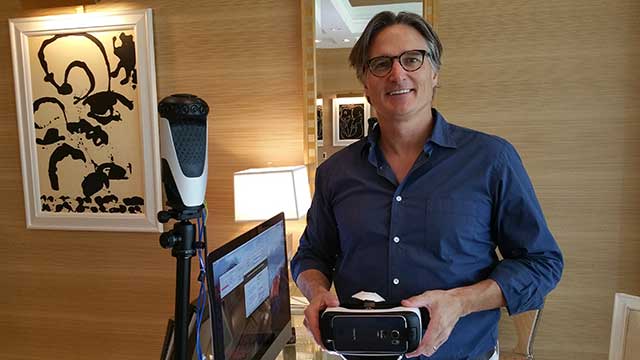 While we were hanging out on the show floor, Halsey Minor of Reality Lab invited us to come over to his suite and check out his new prototype camera rig, Quantum Leap. They're creating a full ecosystem for publishing or broadcasting live 360 stereoscopic VR content. With just a few clicks, I was soon able to see a highly-detailed 3D model of a starship in the suite above our heads via Halsey's Samsung Gear VR. The current prototype doesn't have full 360x180 coverage, we notice the zenith and nadir had a small blur patch. The stereo was a bit flat, but unlike Nokia's offering, it wasn't nauseating.
The design of the camera itself was very compact, which is what we liked most about it. We don't want our cameras to be a burden, bigger is never better for the types of projects we do. Newer prototypes will likely use better sensors, so we're looking forward to seeing how this will progress.
Mooovr
Mooovr sells rig for multiple mirrorless cameras. Their first offering is comprised of 5 Canon M3 with Samyang 7.5mm fisheye lenses. They had a side by side comparison of footage shot from a 360 Heros rig with 6 GoPro Hero4 alongside the Mooovrig at a concert in dark conditions. It was very obvious that the Canon M3 was able to capture better color, better dynamic range and with much less noise. A newer rig for Sony mirrorless cameras is currently in the works for release within the next 5 weeks, we're told.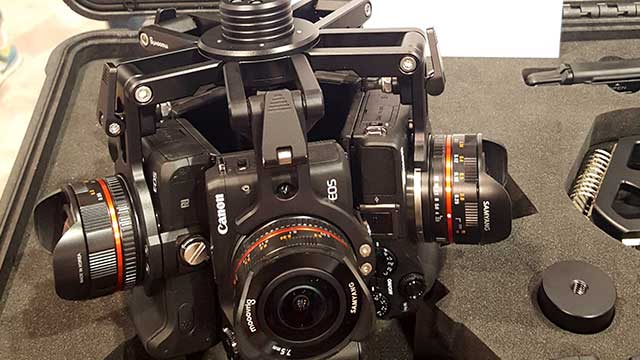 They sell the full package including mount, cameras, batteries and all accessories for $12,500. Or the basic package including just the rig and lenses for $8750. The demo reel they were showing in Gear VR is some of the best monoscopic 360 video footage I've ever seen. The sharpness and color was perfect (as well as you can get in a Gear VR anyway). Pricing for the Sony version is unknown.
Obviously, due to the sheer size of the rig, I don't consider it a replacement for a GoPro based solution. For situations where you need light weight and portability, the Mooovrig will certainly be overkill. Increased parallax could also be a problem with subjects close to your camera. However, for outdoor shots or landscapes, or as a high mounted main overview camera in a multi-camera shoot it looks like a great solution.
Teradek
Teradek announced a new device for real-time 360 monitoring and streaming, the Teradek Sphere. Currently it's only available for Apple and iOS devices, according to specifications. It will take 4 streams from a 360 camera rig and live stitch (more like blending) in Teradek's proprietary app. You can live monitor from multiple devices, even stream from a device to YouTube or other services with live 360 streaming.
The device relies on a WiFi connection to an access point, so the quality of your signal depends on how good that connection is. Within the app you can adjust settings like white balance, exposure and lens distortion per camera. It also has a VR headset viewing mode. The price point is right around $3000.
Sennheiser
Sennheiser is closer to a release of their new 4 capsule ambisonic 360 VR microphone and workflow system, AMBEO 3D Audio. They've recently announced a program for early adopters, a limited number of producers will have early access to the mic for testing within the next couple months. They're hoping to release it publicly by some time in Q4 of this year. Although they were not mentioning price points at NAB, they told us somewhere in the ballpark of $1,000 at CES this past January. That may change, so don't quote me on that. For more from Sennheiser about how this works from the source, check out this video from B&H that we managed to get a cameo in.
DEFY / Motion Impossible
We couldn't help but notice the beastly Mantis camera platform from Motion Impossible with a mounted Freedom 360 camera rig. We couldn't drive it because of the bad connection from the transmitter (too much interference at NAB), but we were very impressed by the smooth motion and the incredible design of this platform. With an included gyro stabilizer and shock system, you can have extremely fluid motion even at higher speeds or over varying terrain. At nearly $18,000 USD, it may be out of reach for some production houses but for the right client and the right project it may be a valuable system to rent and have on hand.
And while we were there, we had to throw up our camera on one of DEFY's Dactylecam motion rigs. The sled moves at up to 40mph on a line and is controlled remotely. We placed a camera with back to back Entaniya 250 lenses on it and were excited to see in the final stitch that the entire rigging disappeared in the parallax. It could be a great solution for 360 motion shots, without using a drone.
Liquid Cinema / DEEP Inc.
We managed to catch up with our good friend and pioneer in the VR documentary world, Thomas Wallner at DEEP Inc., about his authoring & distribution platform Liquid Cinema. This will change the way we author content for cinematic VR. In a nutshell, it separates the data layer in VR content from the video itself. Instead of baking in your titles, transitions and offset, Liquid Cinema can control this dynamically through the application platform.
One great example is forced perspective. Because we aren't baking our clips into 1 video file, we can change the camera orientation dynamically between cuts so that the user is always looking where we want them to in the beginning of each new clip. In addition, since we know where the user is looking we can even trigger titles or graphical overlays when the user looks at a specific part of the video, or even change the outcome of our story dynamically based on the viewer behavior.
We're excited to work closely with DEEP to beta test this product, so we can bring you our Grand Canyon VR Documentary, "As it Is," in a very dynamic and interactive format. This is how I see people interacting with VR video content in the future. There's no reason to sit back and view linear non-interactive content like we're watching TV, especially since every VR headset is connected to a smart device. DEEP Inc. obviously understands this.
Mettle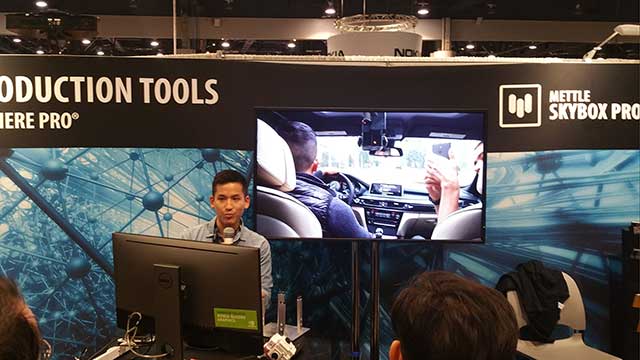 Tobias Chen talks about expiramental camera rigs in Mettle's booth.
Mettle was offering live talks from content creators on the use of Mettle Skybox in their VR post workflow as well as many other topics. They're working on a new set of transitions for spherical content, available soon for Adobe Premiere. If you've tried applying regular transitions to your 2:1 equirectangular video, you know that when you get them into a spherical player or headset they don't always end up looking like you had hoped. Mettle's transitions will apply necessary equi distortion. 360 Labs will be helping to beta test transitions in upcoming projects.
StereoStitch
We were surprised to find a company offering a real-time 3D 360 stitching solution based right out of the Pacific Northwest. Seattle based StereoStitch showed us a great demo of their stitching capabilities. Among those shots was footage from Nokia OZO, and I really think StereoStitch actually did a better job on the footage than most demos being shown on the Nokia side.
Entaniya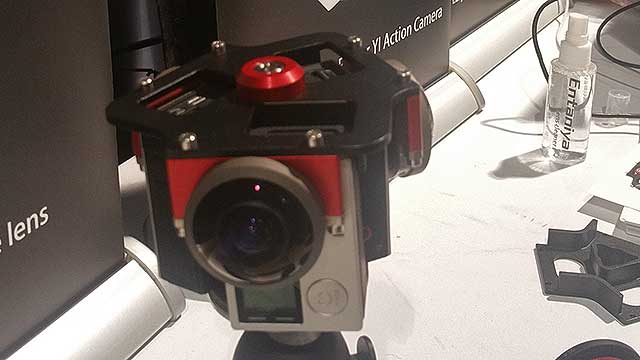 Since we were wandering the floor with our backbone modified GoPro Hero4 2 cam rig with Entaniya 250 degree lenses, we decided to stop by and see what Enyaniya was up to. They have a new base bracket for 3 cameras now that will work with or without the backbone system. This allows you to set each camera at 4k 16:9 and still have enough overlap to stitch and yield 6k resolution overall. What's more, you can also shoot at 2.7k 16:9 at 60 fps and still yield 4k stitched resolution. This opens up great possibilities for motion and sync with higher frame rate, without sacrificing resolution.
Conclusions
Although everyone is obsessed about live streaming 360 and VR, I think it's success or failure will rely more on the user experience than it will on the cameras themselves. Your camera can be absolutely amazing, but none of that matters if viewers have to wait too long for video to load. It seems like the race to create the hardware that can live stream will be short-lived. This time next year, there will be a dozen or more cheap solutions.
It's hard to pick a clear winner in the camera category. On one hand, you have companies pushing stereoscopic 3D 360 that could still use improvement. On the other, you have companies putting together higher quality cameras to build larger and more complex camera arrays. The output can be incredible, but not without blood, sweat and tears in post production. Finally, we have camera solutions trying to make that easier for everyone by handling the stitching for you. There are a lot of tools coming out for the job, like always it'll be up to us to use them to tell a great story.
I think I walked away from NAB with the most excitement for post production tools like Liquid Cinema, Mettle Skybox and others. There are visionaries out there revolutionizing the way we author and distribute content for this new VR medium, and it's all happening very fast! There's no such thing as a magic camera that will solve all of your problems, creating good cinematic VR content still takes lots of tender loving care in post. It's a good thing we have so many amazing tools. It's an exciting time to be making VR content!