Submitted by Matt Rowell on
So you want to impress your friends with your vast knowledge of this cool new medium? There's no better way than to take control with your smart phone and watch the 360° video frame move with the motion of your phone. Watching 360° video can be resource intensive, for this reason it's best to watch in an native application. Below you'll find some of our favorite apps, each with a vast library of 360° video content.
Get the Kolor Eyes App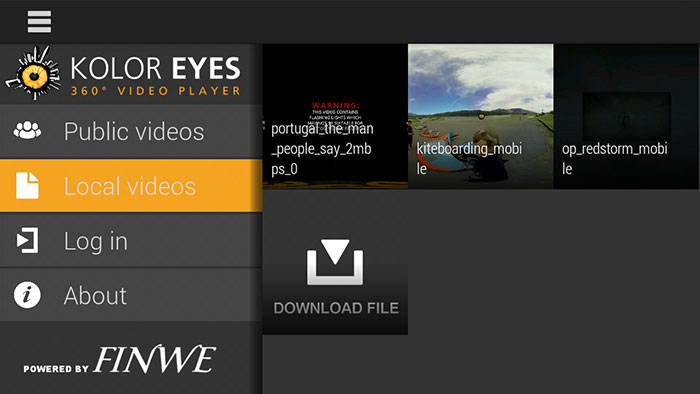 Kolor Eyes is one of the best 360° video apps available. We especially like this app because of it's fun view modes accessible by the globe icon in the top right corner. It's the only app to offer a Little Planet mode. It also offers a side by side viewing mode for VR head-mounted displays. Installing it and watching videos is easy.
Download the app. Get it for Android here, iPhone here.
Go to any of the videos in our library on your mobile phone.
Tap the "Watch in 360 video app" button to start your video (streaming might take a couple seconds on slower connections)
You can also find our videos in the video library under the "Public Videos" tab in the application, along with 100s of other 360 videos. Beyond this, you can even upload your own videos directly to the app for fast playback.
Get 360 Heros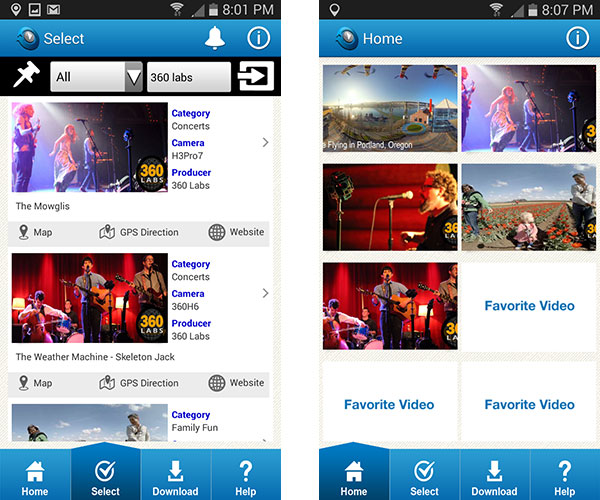 We also have videos available through the 360 Heros app. This one doesn't have all of the fancy different view modes, but they've got a vast library of content in several categories. Here's how to get started:
Once the app loads, from the home screen tap "select" to begin choosing videos.
At the top, search "360 Labs" to see all of our videos available.
Find the video you want, tap to open, tap once more on the thumbnail to begin download.
Unfortunately the 360 Heros app does not have a side by side display mode for head-mounted displays, but it may be planned as a future release.