360 Labs is a production company specializing in 360º immersive panoramic photography and video based out of Portland Oregon. Our goal is to create meaningful and memorable experiences for virtual reality, desktop and mobile applications.
As 360º cinematographers, we capture experiences in full 360x180 video for the explosive new VR medium. Each of 360 Labs founders are also certified by Google to provide businesses with interior Street View, a high quality interior virtual tour integrated with Google Maps. In addition, we can create fully customized proprietary virtual tours, tailored to your needs. With ultra high resolution Gigapixel imagery, we can create vast panoramic views of audiences at events for social media tagging, or simply enhance a beautiful landscape with the ability to zoom in and see the smallest detail.

These are only a few of our favorite art forms, above all else we love to capture the world around us. If you're passionate about 360 like we are, we'd love to talk!
Who We Are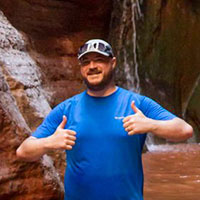 Matt Rowell
Matt is an accomplished Digital Media Producer with over 15 years experience as a web developer and more than 8 years of experience in the photography and video production industries. Before starting his own business, Matt worked for an award-winning Portland based digital agency for 8 years. He's worked on web and multimedia productions for clients such as OHSU, Wells Fargo, Siemens, A-dec, Nestucca Ridge Development and many others. As a native Oregonian born and raised, Matt enjoys hiking, fishing, camping and backpacking.
Thomas Hayden
Thomas brings over 10 years of panoramic imaging experience. He helped pioneer the currently exploding niche of 360º video, captured much of the photography for StreetView's 2007 launch, and was among the first Google Trusted Photographers in the country. He has produced 360º projects with world class brands and organizations like National Geographic, Red Bull, U2, NFL, Beck, VISA, and Lincoln Motor Co. In Portland, Thomas is usually shooting, stitching, editing, or thinking in 360º, having provided Google Business Views for a client list as varied as Portland itself over the last two years. Thomas is also a father, husband, gardener, hiker, birder, kayaker, snowboarder, an oarsman, and wannabe surfer.

Brad Gill
In the beginning, he had a huge love for music. Working with bands in Georgia caused a creative boost. Making band flyers, taking promotional photos, and organizing the Myspace account were just a few of the duties. Brad decided to use his passion as a pathway to progress and started shooting professionally in 2007. He finished his degree in Advertising Management at Portland State University. Aside from the Google Business Views program, Brad has other clients such as Natural Value Foods, Apartment Guide, Riverstone Residential, and RealPage. Brad focuses on quality work and superb customer service. He stays sane by listening to music, playing his guitar, taking long walks with his camera, and enjoying time with his close friends. Amen.