Custom Virtual Tours
Full 360° Virtual Experiences
Due to the explosive popularity of Virtual Reality and 360° video, a professional quality virtual tour should be on the radar for every business as a valuable marketing tool. New technology has made the virtual tour experience more accessible and engaging than ever before.
We capture sharp high resolution full 360° panoramas in high dynamic range (HDR) and deliver them in custom tailored mobile first web applications for your audience to enjoy them on desktop, mobile devices, and even in VR headsets.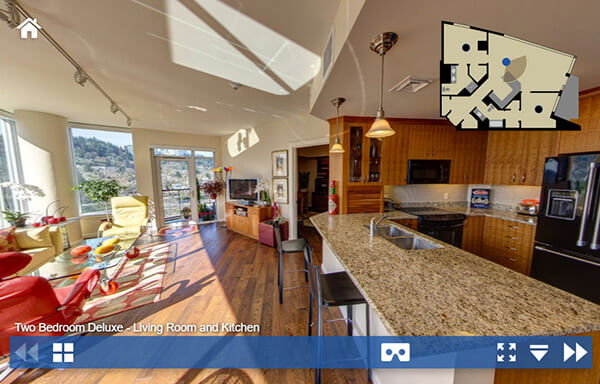 Old Medium - NEW Technology!
Virtual tours have been around for years, but 360 Labs are on top of latest design trends and part of setting the new standards for feature-rich, immersive content.
Walk-through Experiences
360° HD Photography provides full immersion in your space and the freedom to explore. Linking one panorama to another in a virtual walkthrough.
Enhance with Rich Media
Users can touch points of interest and call new content forward. Video, stills, and graphics, mapped to the sphere, are one click from the main image path.
Tell us about your project
Every business has a different tour need, big or small. We're here to help you plan the best experience for your potential customers.
Perfect For
Residential Real Estate
Commercial Real Estate
Event Venues
Campuses and Way-finding
Corporate Recruiting
Hotels and Hospitality