Axon came to 360 Labs with a clear goal in mind—to help to manage the production of several branching narrative VR training scenarios for their VR training platform. As the makers of TASER and the leading body camera brand for public safety in the US, Axon's core mission is to make the bullet obsolete and protect life. They accomplish this by leveraging virtual reality to train officers to effectively interact with individuals in crisis. This is where 360 Labs came in. Axon needed a partner to manage the end-to-end production of several branching narrative VR training scenarios.
Each scenario is shot from two points of view, both the officer responding to a crisis call and the community member experiencing the police interaction. By showing multiple perspectives of the same story, trainees get a truly unique experience and better understand the way situations can quickly unfold for both parties. We've produced scenarios for topics such as autism, peer intervention, and English as a second language.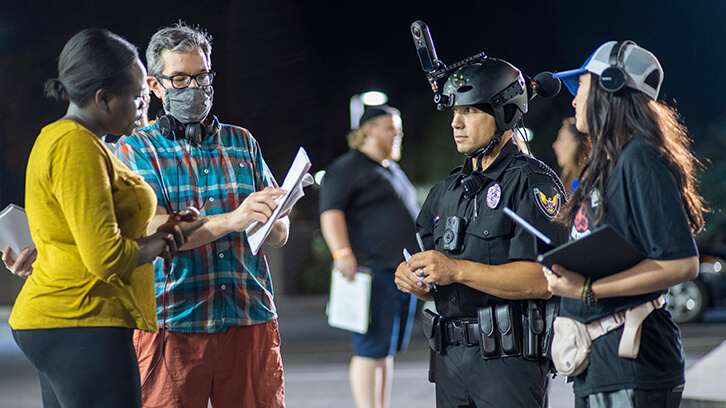 In pre-production we provided casting, wardrobe, location scouting, and detailed production schedules mapping out each shot. The wardrobe was particularly important considering that most trainees were quick to notice and point out flaws in police uniforms with previous training scenarios. Anything that isn't realistic can distract the trainee from learning. This also made the casting process very important, actors had to be believable in the role of an officer. We provided Axon with a vast talent pool and self-tape rehearsals from each actor.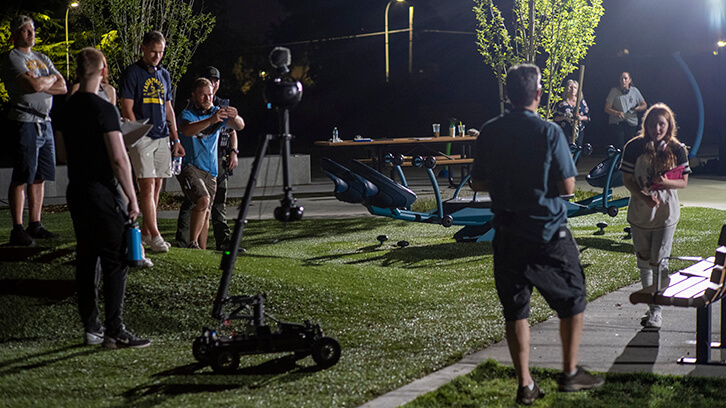 Productions were either shot in 8K per eye stereoscopic 3D 360 utilizing the Insta360 Titan, or shot with body mounted cameras such as the Qoocam 8K in 8K mono 360. To provide walking motion for stereo 3D scenes, we used a Mantis EVO, a stabilized camera dolly system large enough to drive the heavy Insta360 Titan. For all productions, even with body mounted cameras, we provided real-time monitoring in a video village. A huge challenge here was placing the actor in a scene when he or she would be replaced by the camera. We still needed the timing right and for their lines to be delivered, so in many cases we had to hide the actor at the base of the camera and remove them with a clean plate in post.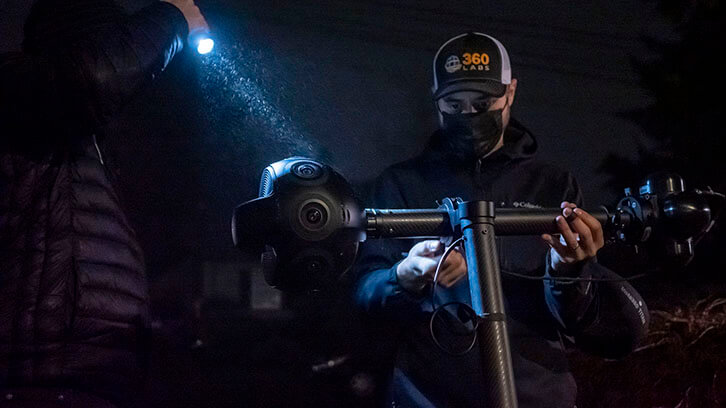 Important police work often happens at night, many of the scenarios we shot for Axon had challenging low-light conditions. We brought in gaff with prior experience lighting for 360, and carefully placed lights throughout the scene in places where we could easily remove them in post. We also replaced practical lighting with brighter bulbs where possible, and made some lights look as if they were part of the scene, such as another street light or a motion light on a building.
As a branching narrative production, continuity from scene to scene was extremely important. Some scenes had to be shot twice with different circumstances, depending on which choices may have been made previously. We used 360 photos as well as VR headsets on location to make quick visual checks of previously captured scenes to ensure that vehicles, props, and people were on the same marks.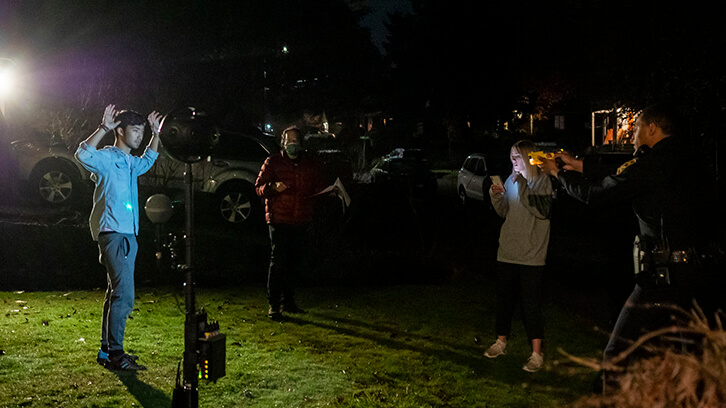 In post, we optimized the final deliverable content for Axon's state-of-the-art VIVE Focus VR headsets. Each scenario is a branching narrative where the trainee can choose from a series of options, with each option leading to a different outcome. Stereo content was delivered in 4K per eye, and mono body-mounted content in 4K, with all content being mastered in 8K for easy distribution on future platforms. All audio was mixed in third-order ambisonic, and muxed for distribution to HTC Vive Focus.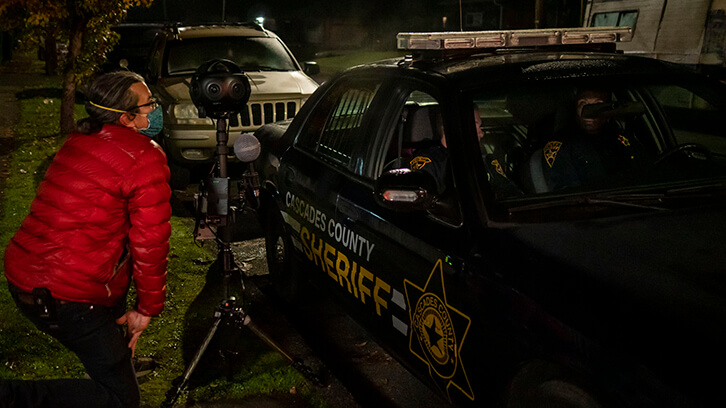 Leveraging VR can save law enforcement agencies time and money by cutting expenses from traveling to traditional training facilities or hiring personnel for in-person role plays. All training in VR can occur anytime, anywhere, as many times as needed. Through these immersive experiences, officers gain confidence in responding to calls with new insight, awareness, and empathy, leading to more mutually beneficial outcomes for themselves and the communities they serve. Axon is currently rolling out these training solutions to more than 1,000 law enforcement agencies across the country.
All productions for this project followed CDC and local media association guidelines to prevent the spread of COVID-19 and ensure the safety of crew, cast, and our client.