VR for Events & Activations
Virtual Reality at Your Event
Interactive virtual reality experiences are a great way to entertain guests, bring traffic to a trade show booth, or launch an exciting new product.
As a pioneering VR studio, 360 Labs has vast experience with several VR platforms, headsets, demonstration apps, and displays needed to pull of a great experience for your event. We can help to provide everything you need from consultation, to sourcing and rental of equipment, to setup, and even custom application development.
We Help You Choose the Right VR Hardware
We know VR headsets inside and out. We can help you choose the right device with the right level of quality and interactive features for your VR experience.
We Can Recommend Great Content
Not sure what your guests may enjoy? Not a problem. We've demonstrated VR films and games to thousands of viewers, we can help you find the right fit for your audience.
We Provide On-Site Support & Hosts
Technology is not always fun, wrangling VR headsets at an event can definitely be a daunting task. We can provide technicians for on-site support.
VR Headset & Equipment Rental
No matter how large the event or how many participants you have, we can help with the right headset solution for a convenient and worry-free screening experience. We've got great partnerships with distributors who can support any size of event with any amount of hardware, just ask. We'll make sure you have the right peripherals including headphones, controllers and of course, fresh batteries.
As an experienced VR production company, we can also ensure that all content takes full advantage of each device, playing at the highest possible resolution.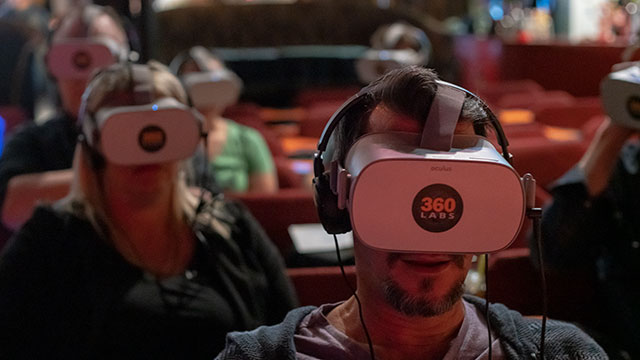 Video Walls & Dome Displays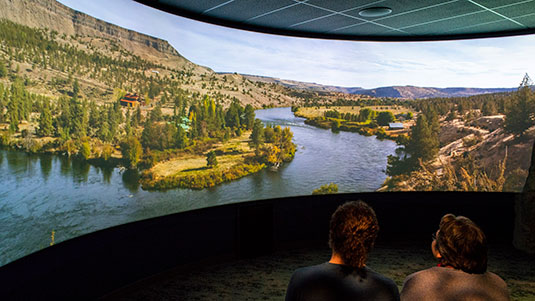 Sometimes you need to reach a larger audience of viewers all at the same time. For that, there's massive video displays and domes. With immersive content, bigger is always better! Our team is well-versed at stitching and producing extremely high resolution content for these types of displays. We can also help you determine costs and requirements for installation of these massive screens, whether permanent or temporary.
All of our 360 content can easily be adapted to dome master, and we've got a vast library of content ready for license and display on these screens at your next big event or trade show.
Presenting VR content is best from a fully branded app, so your guests will see your logo and your logo alone. We can help provide demo apps for any application platform.
360 Video content in VR can be immersive and astounding. We have a huge library of content, ready for license. If you need something we don't have, we can shoot it for you.
There are 100s of great game titles and experiences for VR, our team knows them well. We can help you choose the right fit for your event attendees.
Contact Us to Get Started
We're here to help you craft the perfect VR or immersive video experience for your guests, please contact us to get started on a free consultation for your VR event or activation needs.
Perfect for...
Corporate Events
Presentations
Team Building
Training
Film Festivals & Screenings
Experiential Marketing Campaigns
Installations and Exhibits