Virtual tours are a must have for any business in today's digital world. They provide accessibility, transparency, and allow anyone in the world to tour your property or facility no matter where they are.
We offer solutions to fit any budget, from the most basic virtual tours to complex interactive apps for a once in a lifetime virtual experience. With more than a decade of experience capturing immersive content, delivering exceptional quality is our number one priority.
We'll admit it, we're pixel peepers. Resolution, dynamic range, accurate color, and sharpness are paramount for a good virtual user experience. For this reason, we won't cut corners. Our tours are shot with high end cameras, and seamlessly stitched from floor to ceiling with no rigging showing.
We build custom virtual tour solutions for each client, ensuring that your brand is accurately represented. We'll build a tour that meets the requirements of your styleguide, using your colors, typefaces, and branding. You aren't stuck with one style of navigation interface. We can build custom UI to suit any need.
Whether they're on a desktop, mobile device, or a Virtual Reality headset - your customers will have an easy and painless experience browsing your virtual tour. We build each experience from the ground up with compatibility in mind, and offer solutions to gracefully work around device limitations as needed.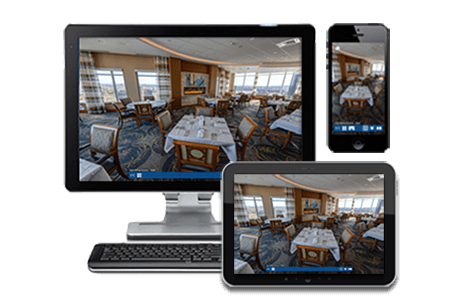 HTML5 & WebXR For Ultimate Compatibility
Our virtual tour projects are based on modular and flexible HTML5 and javascript. With WebXR integration, tours can be viewed in Oculus, HTC, Google Cardboard, Samsung Gear VR and many other headsets right from the browser. We can also work with your web developer or agency to integrate your virtual tour content to your specifications as part of your existing design or as a component to an existing web application.
Native Apps for Oculus, HTC and More
To go above and beyond with engaging interactive features, we can also help you to deploy native apps for Oculus & VivePort. With the growing popularity of VR headsets and millions of units sold world-wide, you want your brand to be discoverable in VR app stores. 6DoF headsets allow for unique "walk around" experiences where viewers can lean in for a better look, or even interact with the environment as they explore.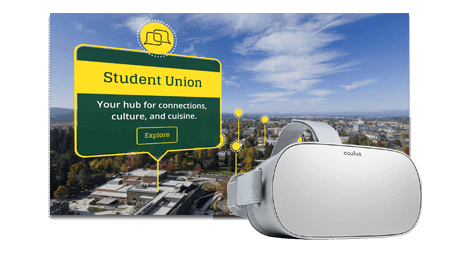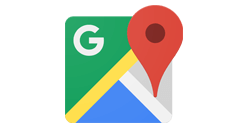 360 imagery from your virtual tour can also be uploaded to Google Street View to give users searching Google a view inside of your business, alongside your other photos. Imagery taken in close proximity can be automatically linked with navigation arrows.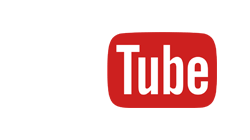 With an audience of more than 2 billion users, YouTube is one of the best platforms to distribute 360 video. Even if you only have 360 photos, it's easy to turn your content into an interactive, immersive slideshow to share with your YouTube subscribers.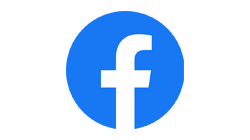 360 photos and videos make for very engaging content worth sharing on Facebook with your established followers. We can optimize your content for Facebook and ensure it has the appropriate metadata to make it ready for sharing.
Great sound design makes scenes feel more realistic, providing an immersive experience.
Allow viewers to get a closer look at your products and services with photo galleries.
We can take your schematics and design custom floor plan navigation.
Background music can add ambience and life to any scene.
Google Maps or Bing Maps can be integrated for wayfinding or navigation.
For a guided tour feel, we can integrate professional VO, and offer the recording studio services.
Embed video from YouTube or Vimeo directly inside the virtual tour.
Whether it's buying a product or learning more about a service, your virtual tour can drive conversions.
Intelligent meta tagging allows for beautiful eye-catching social media posts of your tour.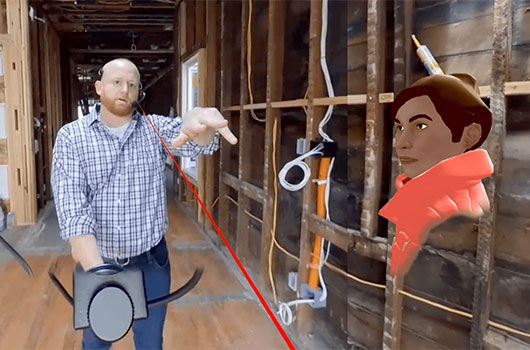 Live Guided Tours in 360
When you need to give investors, VIPs, trainees or colleagues a live guided tour of your facility or project - let us help you set up for success through a live tour platform. New advancements in 360 cameras have made them easier than ever to use, and even live broadcast direct to Facebook. We can set you up with your own 360 camera system & software platform to easily make your next important meeting virtual. When your colleagues can't be there in person, this immersive experience is the next best thing. Ask us for details.
Tell us about your project
Every business has a different tour need, big or small. We're here to help you plan the best experience for your customers.
Perfect For
Residential & Commercial Real Estate
Industrial Facility Tours
Event Venues
Universities and Colleges
Corporate Recruiting
Hotels and Tourism