CMD Agency came to 360 Labs to provide a custom virtual tour experience for their client, Microsoft. The tour invites fans to experience the Cloud9 League of Legends esports team house. Fans can walk through and explore the house as they click or tap on hotspots to discover videos starring the team members themselves, as well as stat cards and other info about the team's day to day life as they train, scrim, eat, and relax.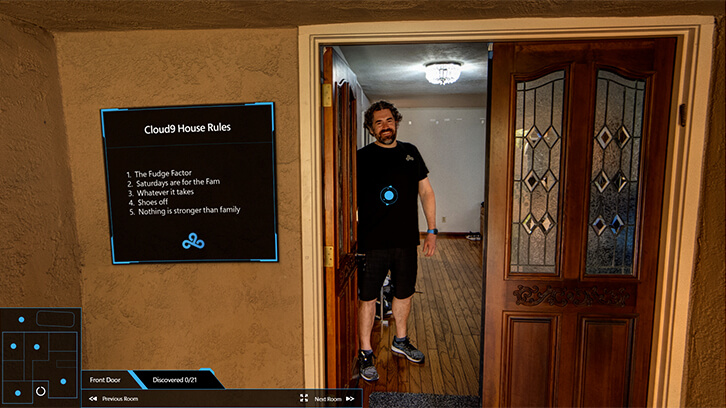 360 Labs sent a director and a photographer to provide staged 360 photos at key locations within the house, using a mirrorless camera with a fisheye lens for high resolution captures with great dynamic range. In pre-production, we helped the CMD and Microsoft teams to determine the best possible use of the space in 360, and the server requirements for hosting the tour that needed to be launched very quickly after the initial photo session. As a COVID-19 precaution, our vaccinated team members were masked at all times while in the house. We also kept our crew size limited by providing a stream to stakeholders at Microsoft and CMD to watch and review captures in real-time.
We provided stitching and photo editing in post, as well as development of the custom virtual tour with Pano2VR. A custom skin was optimized for mobile and desktop devices, based on design comps provided by CMD. Custom SVG animations were created for hotspots, keeping file sizes low and loading times lightning fast. To gamify the experience, we unlock a special video using conditional logic when all of the hotspots in the tour have been discovered.
Accessibility is always an important concern for Microsoft, we provided a separate version of the tour with audio descriptions for every video, and made sure to tag all images appropriately with titles and descriptions.
CMD reports that Microsoft's Cloud9 360 campaign outperformed the previous campaign by 19% or more in key metrics on social media platforms. Check out the tour on the Cloud9 website or the Microsoft In Culture blog.