Shoptalk Commerce came to 360 Labs with a need to produce immersive content for their annual conference in Las Vegas. Founded in 2015, Shoptalk is the fastest-growing event in retail history with over 8,000 attendees every year. Their second conference, Groceryshop, is only in it's second year and is quickly blowing up with thousands of attendees. For the first time ever, Shoptalk set out to produce original content for the conference and they called in 360 Labs to help make it happen.
The Project
The goal was to create three original immersive films profiling three cutting edge companies in the robotics & automation space who are disrupting the retail and grocery industries. The final product was to be screened in a 30 foot cylindrical dome from Igloo Vision, and the same content would also easily be repurposed for the Oculus Go VR headset. All three stories would be combined into a 10 minute short.
The Shoptalk team told us they had very little experience producing video content in-house, let alone 360 VR video, so they wanted to be able to rely on us for guidance and advice. As an extension of Shoptalk's talented creative team, 360 Labs provided the consulting, expertise and first-hand knowledge to successfully produce fully immersive 360 videos on location in Boston, Miami and Pittsburgh.
The goal of the film was to educate, immerse and inspire. It was important to Shoptalk that this project was more like a documentary and would not come across as being too promotional. Given our vast experience in making many of our own in-house VR documentaries, as well as working with several tech companies on past projects, we felt like this was right up our alley.
The Challenge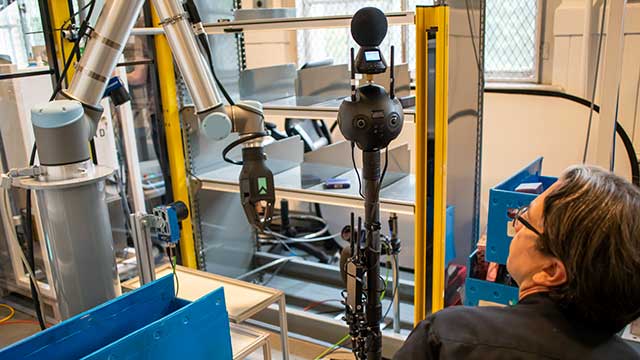 ​
The first leg of our journey brought us to Righthand Robotics in Boston, MA. Righthand's solution is a piece-picking robot, capable of identifying and picking multiple types of products thanks to machine learning and AI. In pre-production we had researched all of their products, videos, and photos of the robotics lab. We came prepared to give the viewer a POV of the actual product being picked, as well as the hand itself as it scans and negotiates it's grip in bins loaded with products.
The second part of our production would bring us to a Sedano's grocery store in Miami, FL to work with Takeoff Technologies, a startup specializing in fully automated micro fulfilment centers. When you make that grocery order with your mobile device, Takeoff's fulfilment center springs to life, picking at a rate of 6 seconds per product. The inner workings of the fulfilment center provided some difficult lighting challenges, but we really wanted to give viewers this unique and exciting POV. Sedano's facility managers and Takeoff's team worked closely with us to provide specifications. Thanks to careful planning we were able to follow the entire process of a product from order to delivery.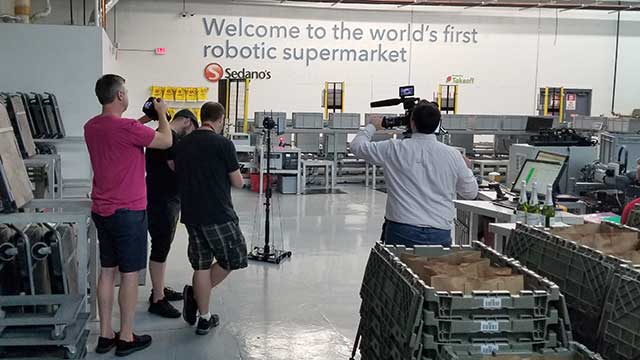 ​
Finally, the project wrapped in Pittsburgh, PA at the headquarters of Bossa Nova Robotics. Bossa Nova's product is an inventory control system, a shelf scanning robot capable of checking inventory on a scheduled basis without getting in the customer's way. We had the opportunity to catch the Bossa Nova robot in action in a Walmart store, where they are currently undergoing test deployments as part of a pilot program.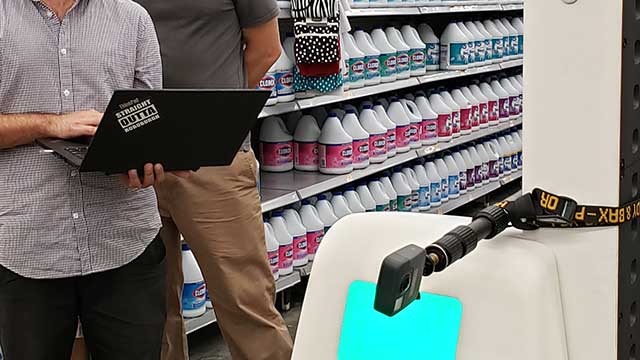 ​
Using our remote operated camera dolly system, ROVR, we were able to match the motion of the Bossa Nova robot and follow it's scanning process down the aisles. We also gave viewers the perspective of being on the robot, working very carefully with Bossa Nova's technicians to ensure that our mounted cameras wouldn't interrupt any sensors necessary to the safe operation of the robot.
The majority of our footage was captured at up to 8K resolution using the Insta360 Pro 2, with a lot of extreme closeup and POV mounted shots on the GoPro Fusion. We also meticulously captured every bit of ambient and wild audio we could with a variety of microphones including lavs hidden in the scene, Sennheiser VR mics and others.
The Results
Conference attendees at Shoptalk were able to watch this immersive experience in a 30' cylindrical dome mastered in stunning 8K resolution with 5.1 surround sound, or opt to watch the fully immersive film in an Oculus Go headset in the VR lounge. We delivered both experiences with a week to spare for ample time to test and ensure the videos displayed properly.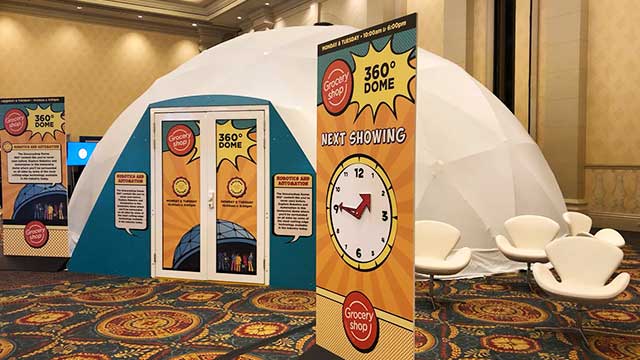 ​
The end result was truly a collaborative effort, we enjoyed every moment of it. We understand that not all of our clients have the resources to devote to the creative process, but it's refreshing to see companies like Shoptalk investing in immersive filmmaking and jumping in with both feet. For stories like this, the 360 medium couldn't be more perfect.