Dailey, a Los Angeles based creative advertising agency, came to 360 Labs with a need to produce an action-packed virtual experience for their client, Honda. To promote the release of a new side by side UTV (utility task vehicle), Honda wanted to give viewers a POV ride with 2-Time AMA 450 Motocross Champion Ken Roczen.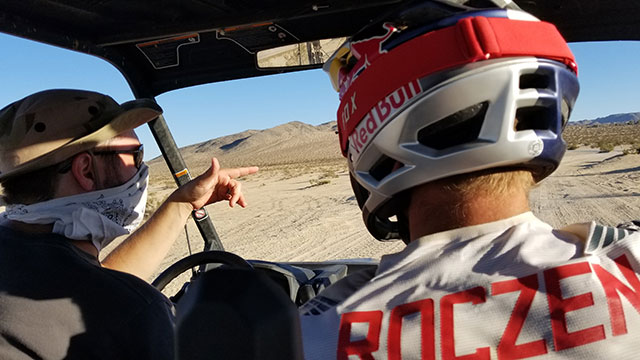 ​
The Challenge
We were asked to manage all aspects of the VR shoot from the initial R&D to determine which camera systems would work in such a harsh and fast-paced environment, to pre-production, production, and post. We even helped initially to scout possible locations in Oregon, although due to the secrecy of the project and the never before seen prototype vehicles, Oregon locations were deemed too popular to risk exposure. Any time these vehicle weren't being used, they needed to be covered to reduce visibility to the public and risk the new vehicle from Honda being leaked online. Instead, they opted to shoot in Johnson Valley, in the California desert - where the famed King of the Hammers off-road race takes place.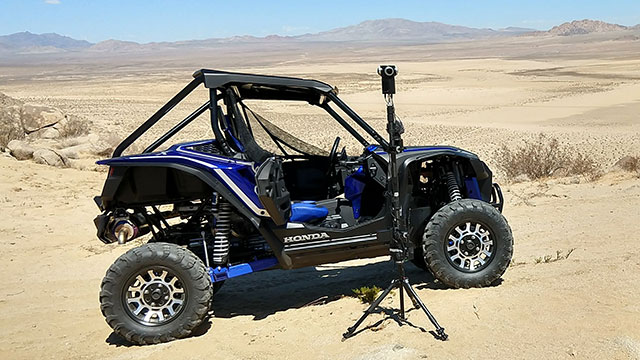 ​
Our first step was to determine the right camera for the job. We knew that on a bright sunny day in the California desert, under the roof of a UTV, we would need as much dynamic range as possible to have detail on our driver while still maintaining a beautiful deep blue sky. Stereoscopic 3D was out of the question due to very close stitching distances, and given the fast-paced nature of the content, it's hard to say if viewers would even notice it. In the end, we opted to shoot with a Z-cam S1 Pro, providing us with 12 stops of dynamic range on it's medium format sensors. Although limited to 30fps, the natural motion of 30fps gave the action a cinematic look.
To give the viewer the perspective of being the passenger, we positioned the camera exactly where the passenger's head would be. Using a vibration dampener, a suction cup mount and a monopod for tension – we suspended the camera exactly where we wanted it. This also means we didn't need an excessive amount of rigging, which helped in post. Our rig held up against an onslaught of bumps, jumps, dust and flying debris at outrageous speeds. Prior to using the camera for the shoot, we thoroughly tested it in a Jeep and another UTV at a nearby dealership. Surprisingly, we only managed to damage 1 lens in production, which was easily fixed by a quick shipment to the factory. It's now good as new thanks to the team at Z-cam.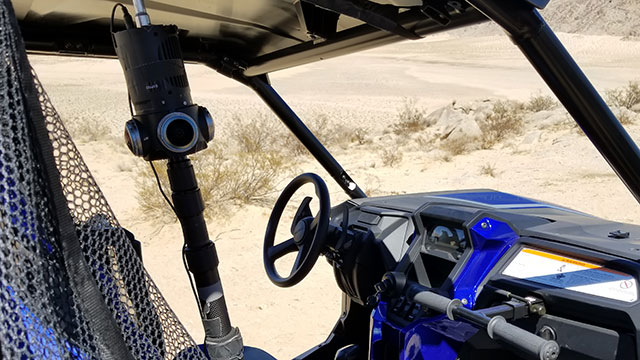 ​
On location, we were sharing the set (hundreds of acres of desert) with 2 other production teams. A standard video team was there to shoot running shots of the vehicles doing what they do best, ripping up dunes and kicking ass. A team of 2 photographers were also capturing beauty shots of the vehicles whenever possible. Although we don't recommend trying to share the VR set with standard production teams because our cameras see everything, we had limited access to these prototype vehicles and Honda wanted to take advantage of time on location as much as possible. Despite a few hiccups, we were all able to do what we came there to accomplish.
Through the use of a Teradek Sphere and a Paralinx Arrow-X, we were able to provide live monitoring to our director and VR DoP while recording scenes outside the vehicle. Although we had planned to also monitor from the moving vehicle as well, it would have been impossible to hide the video village and everyone watching while shooting 360 scenes, so we opted to keep it simple. We also setup a DIT station to ingest 360 footage, provide quick stitches and run demos on an Oculus Rift for the agency and client as often as we could shuttle cards.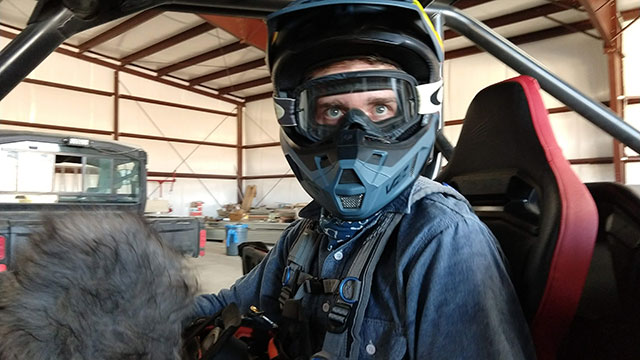 ​
Audio capture was also a huge factor for this shoot, with the goal of providing spatial mixes for both YouTube and Facebook for the public release. Dialog for all drivers and riders were captured with lav mics rigged inside helmets. Mics were mounted throughout the UTVs whenever possible to capture engine noises, and spatial ambience was captured at the base of the camera for all static shots outside the vehicle.
Putting it all Together
Stitching a seamless 360 scene inside of a small vehicle is definitely challenging, which is why we choose to shoot with the Z-cam S1 Pro due to it's massive overlap. Mistika VR was also a big help with finite control over edge points, but each shot definitely required a lot of additional clean-up in post.
Some of our final scenes had as many as 8 or 9 layers of composited masks and roto to ensure that the whole vehicle was flawless. Honda certainly wouldn't want ugly stitch lines or optical flow errors making their product look bad, so it was of utmost importance to make each shot as seamless as possible. Due to the fast-paced nature of the content, with the bumps and flying dust, this was probably some of the most challenging stitching we've ever done.
Rigging was removed from all shots, as we typically do. The replacement of the seat in the vehicle was particularly challenging, although we were able to successfully track the motion and place our clean plate seat after a few attempts.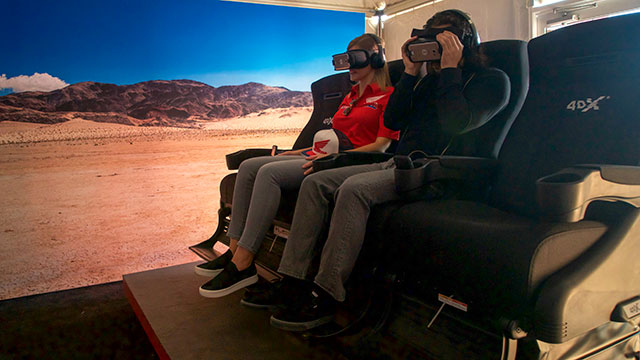 ​
From the very beginning, the project was intended to be viewed in powered VR chairs. When seated in the chair, the viewer is immersed into the action and feels every bump, climb and descent. About a month after production wrapped, we provided a polished teaser edit to show to dealers at a special event. The longer final cut is available for Facebook, YouTube, and will be demonstrated in the power chairs at various events and trade shows.
You can watch the finished project on the Honda Motorcycles & ATVs Facebook page as well as their YouTube channel. We recommend watching the experience in a VR headset with headphones if possible, by selecting "watch later" you can easily find the video in your YouTube VR app, or use the "save video" option on Facebook to find it in your Facebook 360 App. Of course, you can also watch it from your desktop or mobile device by checking out the embedded YouTube version below.