360 Labs Makes Big Impact at EarthxInteractive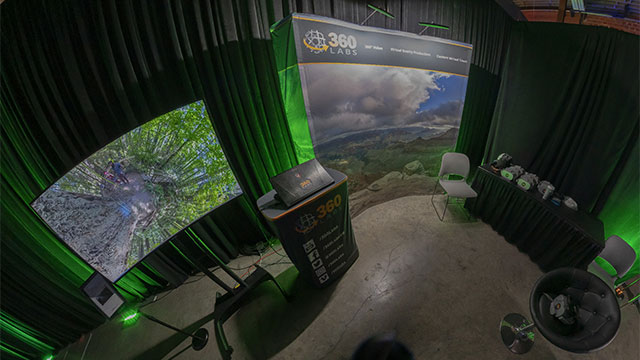 ​
If you haven't heard of it, EarthX is pretty much the largest environmental conference in the world. Every April, around Earth Day, Dallas Texas becomes a hub of activity for students, activists, businesses, innovators, scientists, farmers and more – all with a goal of working towards a sustainable future for our planet. We couldn't think of a more perfect platform for 360 Labs' environmentally driven films.
Since the very early days when we experimented with the 360 video medium, in 2012 when 360 Labs was just an idea, we always dreamed about how messages like these could have such incredible impact in this new immersive format. We were honored to be given the opportunity to screen our VR films at EarthxInteractive this year.
Our Films at EarthX
In total, 3 of our films were officially selected to be part of the festival program, including the world premiere of Tree Huggers, a story about Expedition Old Growth and their mission to help others learn and appreciate the forest. We also brought our first original film, "as it is," a VR documentary about a proposed land development that would change the Grand Canyon forever. Last but not least, our important story about the Eagle Creek fire that was started by teens throwing fireworks on a hiking trail in the Columbia Gorge, The Fire in Our Backyard.
Tree Huggers is now available online on Facebook, YouTube, VeeR and Samsung VR. For the best experience, watch it in your headset.
As an event sponsor, we donated 30 Oculus Go headsets to be used at various stations around the expo floor. Using the Samsung VR Video app, we were able to easily create a branded waiting room by running the app in demo mode with one of our beautiful panoramic photos as the backdrop. With Oculus Go, we could play 5120x2560 resolution in mono with mach1 spatial audio for sharp picture and immersive sound.
We couldn't be happier about our experience at EarthxInteractive. We ran eight VR viewing stations almost non-stop for three full days, estimating nearly 1,000 people who were able to experience our films at this event alone. Even better, a huge percentage of these viewers were children and teens. It warms our hearts to know that future generations care so much about the environment, and we hope that our educational messages will resonate with them in the years to come as they grow up and become the policy makers, activists, scientists and researchers of the future.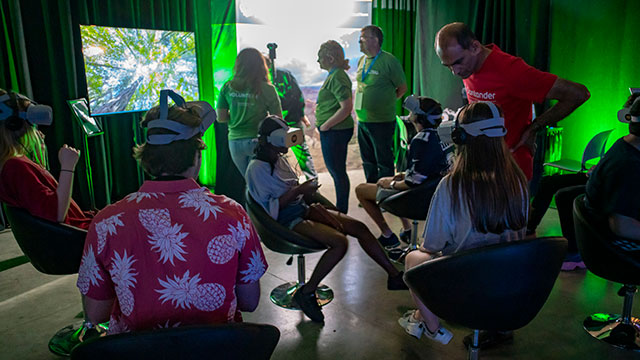 ​
VR and immersive content doesn't take a back-burner to everything else at EarthX, it's celebrated. We were delighted to see that the festival ran "reframed" 360 promotional videos before traditional films on the big screen. Whenever possible in announcements, they promoted the immersive content and suggested people go see it. My hat is off to EarthX organizers for wanting to understand this medium and do it justice.
Even at an environmental conference, we were surprised that so many people told us they had never heard of The Grand Canyon Escalade proposal. We had reactions of shock, disbelief, and anger that somebody would even consider putting a Las Vegas style resort right on the rim of the Grand Canyon down to the edge of the river in such a beautiful and sacred place. Some even asked where they could learn more and donate. As a filmmaker, this is exactly the kind of action I want to inspire.
Other Amazing Films
We were inspired too. We had a great opportunity to check out other films as well, like director Ben Masters' The River and the Wall. Just like so many people learned new lessons about the Grand Canyon in our film, I was educated about all of these possible ecological consequences that a giant border wall might have. These animals rely on the river, water is life.
Guardians of the Kingdom also had it's world premiere at EarthX, with incredible 360 underwater footage that brings you up close with magnificent humpback whales. My Africa and The Elephant Keeper were two of the other 360 films on exhibit by Conservation International. The Wild Immersion was a simple collection of incredible wildlife close ups from all over the world.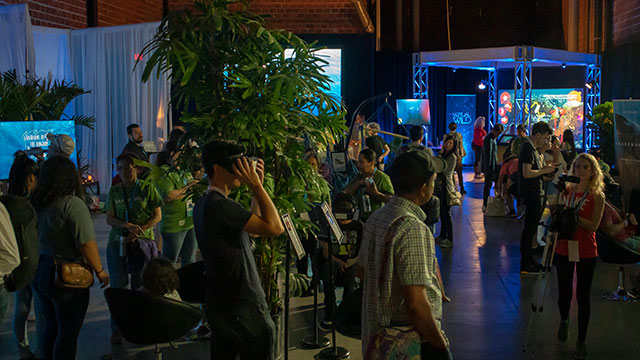 ​
Nonny de la Pena's Emblematic Group had their exhibit right next door to our booth and offered a stunning audio/video presentation on dying languages from around the world. On the other side of us was Occupied VR, presenting Rob Stewart's astounding Sharkwater VR and VICE's Living with Jaguars. The creators taught me a valuable lesson for future shoots that we'll happily share here: when working with big cats, spray your camera with Chanel No. 5 perfume. They love it and will investigate the smell to its source. Just don't let it spill in your backpack on the approach.
What We Learned
As a genre, documentary is extremely powerful in a VR headset. While some storytellers struggle to adapt narrative comedy, drama, or action in to the 360 format, it's almost as if documentary was made for this medium. If you want people to learn about a place, a person, an ecosystem, or a culture, there's really nothing better next to actually being there.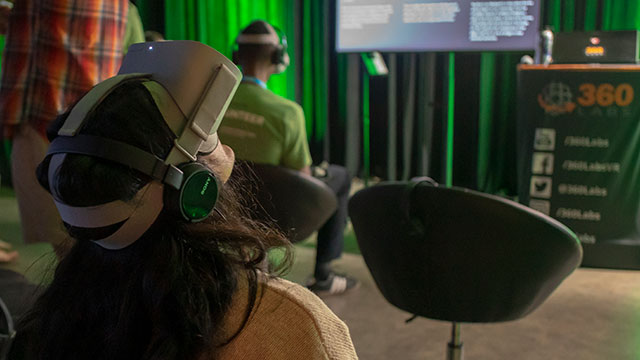 ​
The idea that 360 video content for VR should never be more than a few minutes may be completely off base. Many of our viewing guests would sit down and tell us they only had time to view 1 film, but would end up sitting through the entire 33 minute combined run-time of all 3 films. This was the case for all age groups, from Generation Z to the Baby Boomers. One child even had a little melt-down and yelled "But I want to STAY in the Grand Canyon" to his father when told it was time to leave.
We've never really had this much of an opportunity to make an incredible impact on so many people in such a short amount of time. We have also never been treated so well. EarthX staff was tremendously supportive and appreciative of our contributions to their event. They brought in dozens of enthusiastic volunteers to help us and other VR creators at our booths, and we could not have kept up the numbers we did without them.
If you are a content creator out there working on immersive projects about environmental impact, you need to come join us at EarthxInteractive next year!