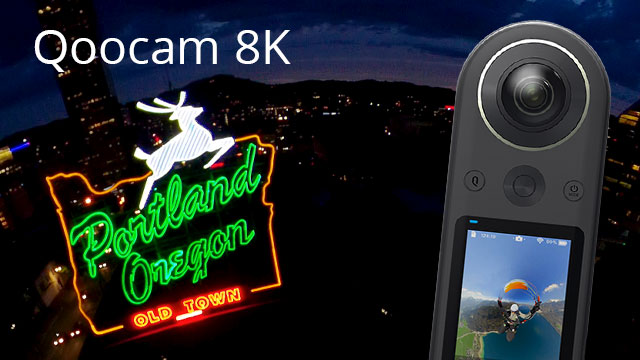 ​
In the 360 camera world there's always been a trade-off. If you want a compact camera that is ready for action, your resolution and image quality will be limited. That may all change with this next generation of cameras. Kandao's Qoocam 8K is the first 360 camera to deliver 8K resolution and 10bit video in a small form factor, weighing only about 19g more than a GoPro Fusion.
Our challenge at 360 Labs has always been to capture incredible experiences for 360 and VR, no matter how extreme or difficult to reach the subject matter may be. Could the Qoocam 8K be the perfect tool for the job? We put it to the test to find out. Use the jump links below to skip ahead if you'd like.
Table of Contents
In the Box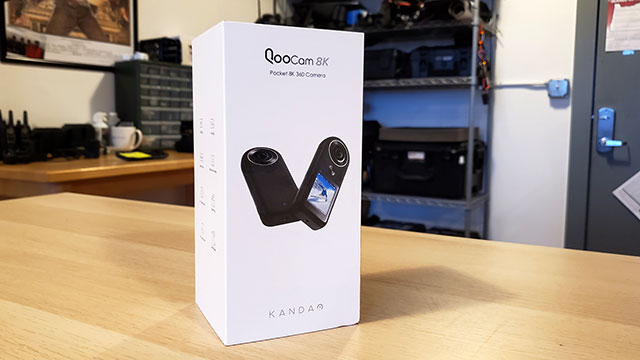 In the box you'll find the camera with it's internal battery, a neoprene protective cover, a rubberized camera casing, an instruction manual and several USB-C cables depending on the device you'll be connecting the camera to. The instruction manual may be outdated due to updated UI from recent firmware updates. You may want to look at Kandao's website or their support group on Facebook for the latest information.
We took advantage of a limited time offer to get a free Qoocam 8K Selfie Stick with our pre-order. It's actually not bad, considering it extends to about the height of a regular tripod and it comes with removable feet at the base. They also include a mount to put your mobile device directly on the selfie stick for hands free operation while streaming. It could be worth the $35 if you don't have a stick already.
Ergonomics & Feel
The button layout is intuitive and fairly easy to use and figure out. The front face of the camera has a 2.4 inch touch screen, a large shutter button, power button, and a quick mode button. You can store user defined presets in the camera and cycle through them with the quick mode button. It makes it really easy to bring back up your most commonly used settings.
A touch screen shows what you are currently viewing, and you can swipe to see more of the 360 view. You access the menus by swiping from the edges of the display; from the bottom for capture settings, from the right for shooting mode, from the left for the media gallery, and from the top for general settings. Brightness of the display can be changed, although currently there's no way to turn the display off while recording.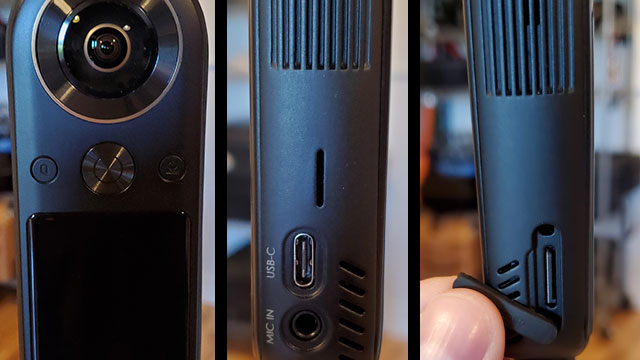 The left side has a USB-C slot for either powering the camera or transferring files as well as a 3.5mm audio jack for an external microphone. On the right there's a single memory card slot for a micro SD up to 256GB. The device also has 64GB of internal memory and you can choose to toggle between SD or internal memory. If you are wondering, the camera will not automatically start recording on the backup storage when it runs out of space, you have to manually switch the storage option in the settings.
The camera weighs in at 245g, just 19g more than a GoPro Fusion. Actually, our Fusion weighed about the same as the Qoocam when it had it's aluminum ¼-20 thread adapter installed. Qoocam doesn't need such an adapter because the ¼-20 thread is built in, and it doesn't use the GoPro style tab mount.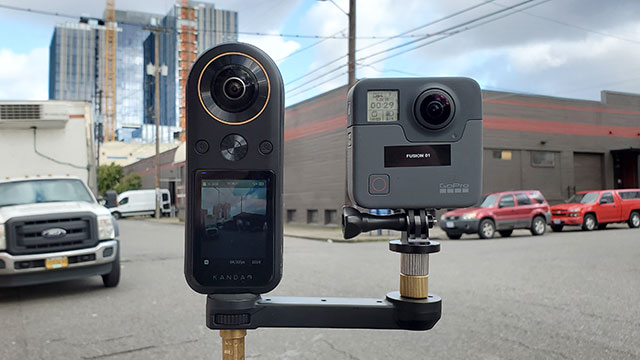 Boot up time on the camera is relatively quick, and you will immediately notice a fan kicks on. Thankfully it turns off when you start recording, but there is an option to leave the fan "always on" if you are concerned about overheating. I ran ours for nearly an hour without overheating in room temperature (72F), the camera became very warm to the touch but continued operating. Currently you can hear the fan for a fraction of a second at the beginning of each clip when you press record, it's a nuisance to have to cut it out of videos, but I imagine that is easily fixable in future updates.
Unlike competitors like GoPro MAX and Insta 360 One R, the Qoocam 8K has no water proof or splash proof rating, so it's best if you keep the camera away from water and out of the rain. Kandao is working on a waterproof case for future release.
Battery & Battery Life
Kandao opted for a non-removable internal battery for the Qoocam 8K, to many user's dismay. This can be particularly challenging for use cases when you are out in the field for extended periods of time without access to power. An external USB power bank can be used if desired, and Kandao has shown photos of an accessory battery they will offer for sale in the future.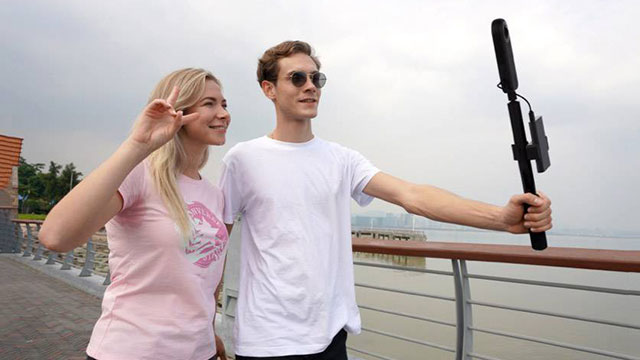 Qoocam 8K shown with an attached external battery. (photo from Kandao)
Despite that limitation, the battery life is very impressive. It's about 90 minutes if recording at 8K in 30fps, although some users have reported even longer times. The battery has consistently kept a charge and doesn't seem to drain while the camera is turned off. Efficient battery use and battery life is probably one of the strongest attributes of the Qoocam 8K.
Shooting Modes
Current options for 360 video include 8K at 30fps, or 4K at 120fps for slow motion. It would have been nice to see a 6K at 60fps, and maybe some different framerate options for 4K for those who want to shoot at lower resolution in normal framerates to save space. This may be something they can add in the future.
The camera records 3840x3840 video in a single H.265 container with 2 tracks, each being 70mbps. Ending output is 7680x3840 from their software, although with overlap it should technically be a bit less. Given the bitrate, one might assume that 10 bit doesn't really offer much of any increase in quality or color latitude. However, I have noticed an improvement in shadow details on test shots, enough to want to keep shooting in 10 bit.
You have full control over manual settings with the Qoocam 8K including shutter, ISO, and white balance. AE mode allows you to choose an exposure compensation from -2 to +2 stops. Unfortunately there's no custom white balance kelvin setting at this time. The main device settings give you an option to choose between 8 bit or 10 bit color depth.
Photos are 7680x3840 (once stitched) in either JPG or JPG+DNG mode. There's no option to shoot DNG alone. You can also shoot in DNG8, which produces 8 exposures of the same frame to help reduce noise and increase detail, especially with low-light shots where noise will be prevalent. You can either use DNG8 express which merges the 8 frames in-camera, or standard DNG8 mode which will require merging in camera or using Kandao's Raw+ desktop software to merge in post. DNG8 is interesting, but it feels like a bandaid to compensate for the camera's own lack of noise reduction. The noise can be pretty significant, even at low ISO. A self-timer is available in all photo modes, making it easy to get yourself into position for your pano-selfie. There's a "superHDR" bracketing mode that combines 3 sets of DNG8 currently available through the mobile app, and only for iPhone at this time. There's no standard automatic HDR bracketing, but you can manually change exposure settings and take brackets as desired.
A timelapse intervalometer mode is offered for JPG or JPG+DNG. You can use the mobile app to generate a timelapse video in 4K, but if you are using the desktop app you'll need to manually create a video using the photo frames as an image sequence in third-party video editing software. In our initial tests we found the timelapse interval timing to be very inconsistent, sometimes taking as many as 5 seconds when we have set it to a 2 second interval. The camera also makes an obnoxious shutter noise every time it takes a photo, even in timelapse mode. There's no option to turn that off.
360 Video Quality
We bought our Qoocam 8K mostly for 360 video, considering we use DSLR and mirrorless cameras for 360 photos. For a long time there's really been no middle ground for 8K resolution with new sensor technology, without needing to have a bulky expensive camera. This meant that any action packed footage would be limited to 5.7k at 30fps. This camera finally makes 8K achievable in a very small package, with 10 bit color depth. Those specs sound great on paper, but we put the camera through a battery of tests to see how it stacks up to other consumer grade and 8K professional cameras.
Let's jump right into the flaws and get that over with. One of our biggest gripes early on was the camera's struggle to balance between 2 lenses. Oftentimes the color or the exposure values would not match, making the stitch line very obvious in the final stitched image. After several firmware updates, Kandao has made significant improvements. However, it can still happen in some lighting conditions, if possible you may want to orient the camera so that both lenses are getting the same amount of light.
Another big issue was the focal distance. Many users complain that the 360 videos and photos are sharp on close objects, such as the user holding the camera from 3 feet away, but much softer on objects in the background like landscapes and buildings. We also had noticed the image was noticeably sharper around the edges of the lens and soft in the middle. Getting sharp images from this camera has been an ongoing challenge. The recent updates to firmware along with the new Nvidia optimized Qoocam Studio seem to have addressed some of these issues, this may be due to in-camera or in-software sharpening that could be compensating for the lens calibration. When comparing to popular 5.7K 360 cameras like the GoPro Fusion and Insta 360 One X, we don't notice much of a difference in quality from the 8K on objects that are far away.
Against other 8K cameras such as the Insta 360 Pro 2, there's really no contest, the Insta 360 Pro 2 has a tremendous amount of detail compared to the Qoocam 8K. This should be expected, considering that camera costs nearly 10x as much as the Qoocam. But even the 5 year old GoPro Omni that can be purchased used for $500 for the full kit stands up pretty well in comparison.
There also seems to be a pretty signifant issue with thermal expansion over time. As the camera runs and heats up, the image becomes noticeably softer. Frames taken from a 10 minute 360 video near the end are obviously softer in comparison to those taken from earlier in the clip. Users have also reported that the same issues will happen with photos, so it's best if you do not leave the camera running idle when you are not using it, and set the fan to "always on" whenever you can.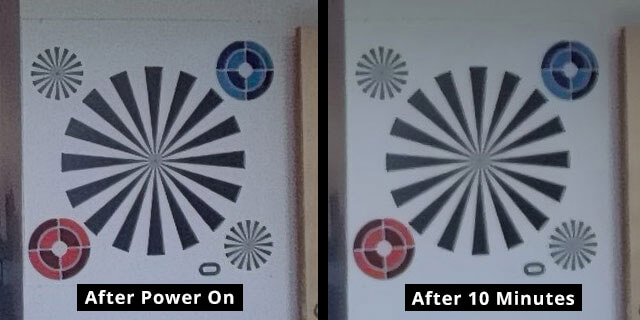 This test compares a photo taken immediately after the camera was powered on (left) and a photo taken after the camera recorded a 10 minute 8K video (right).
Chromatic aberration is quite significant near the edges of each lens, with a massive amount of fringing. They have recently included updates to Qoocam Studio to help diminish this, but for some shots it's still prevalent. I wouldn't really want to use it under tree canopy outdoors if I'm looking for accurate detail, unless I absolutely had to.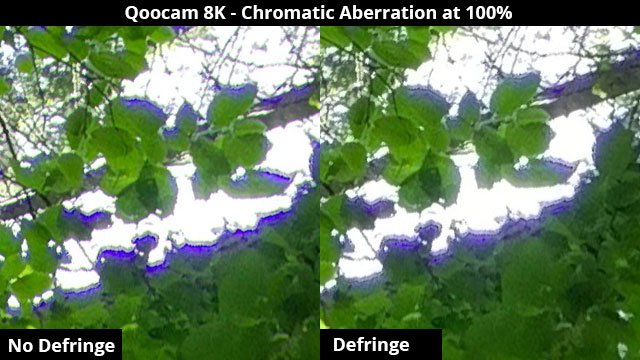 ​
On a minor note, I'm not always happy with the white balance. The sky can often look very unnatural, and sometimes you can get a pretty significant amount of blue or purple tint. Luckily you can compensate for this quite well, especially if shooting 10 bit, but it's yet another post production step you'll need to take to make your footage perfect. The lack of a custom kelvin setting makes it harder to dial in the perfect balance.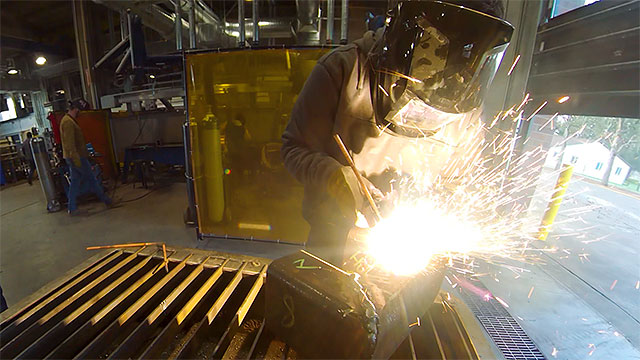 ​
Where the Qoocam really shines is using it as a closeup camera in tight spaces or dangerous spots where you just can't fit a larger camera rig. The added resolution and the 10 bit color depth make for some really compelling shots, with no need to worry where you'll fit the camera. Low light performance also beats every other compact 360 camera we've used, provided you use the right manual settings. The 1/1.7'' sensor gives it a slight edge over typical 360 cameras with smaller action camera sensors, but doesn't compare to MFT. In an indoor environment with subjects close to the camera, we can mix shots well with the Insta 360 Pro 2 and Z-cam S1 Pro without really noticing a huge difference.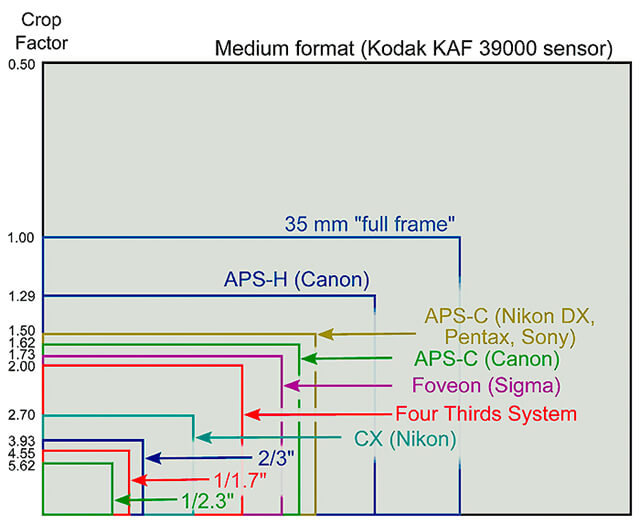 To put it into perspective, take a look at the sensor size chart above. The smallest 1/2.3" sensor reference is commonly used in GoPro and other compact 360 action cams. The 1/1.7" sensor in the Qoocam 8K is indeed larger, but fairly insignificant compared to that of a Micro Four Thirds (MFT) as found in cameras like Z-cam's S1 Pro and Insta 360's Titan.
360 Photo Quality
A lot of people are interested in buying the Qoocam 8K as a one-shot 360 photo camera for real estate virtual tours or otherwise. It seems like best results can be achieved if shooting DNG8, tweaking your images in Adobe Lightroom or otherwise, and taking steps to reduce noise and chromatic aberration. Although HDR modes are only available for the iPhone mobile app at the time of writing this, you can manually shoot HDR brackets by bumping the exposure up or down.
If you do all of that, you can get some pretty impressive 360 photos. But you might ask yourself that if you are having to work a lot with each image in post, why not just shoot with a DSLR? If you are going to go to all that trouble, why not just use a camera with better dynamic range, better lens options and at least twice the stitched resolution. Cost is certainly a factor, but how much is your time worth? They really need to offer more options for automatic HDR bracketing, with DNG or otherwise, and with or without a mobile app.
When going through the proper workflow, I do find that the results I get with the Qoocam are far better than the 5.7K competitors out there. When I'm hiking or backpacking and don't want to bring the full DSLR or mirrorless camera setup, it's nice to have something small and light. In the past, I have been reluctant to share photos taken from the GoPro Fusion or the Insta 360 One X because I'm just not satisfied with the quality. The Qoocam 8K has been a significant improvement, but it depends on the location and the lighting conditions, and it requires work in post to get it just right.
Audio
Unlike some competitor products like the GoPro MAX and Insta 360 One X, the Qoocam doesn't offer any kind of onboard spatial audio. Instead, they have a 3.5mm jack to connect whatever microphone you want to use. Unfortunately as of now the camera has no gain or level control for the audio in, we found that our Sennheiser AVX lav mic was peaking quite a bit. The camera also doesn't maintain the ambisonic format in it's recording when you directly connect a spatial audio capable mic, so you will still need to record your spatial audio separately and sync in post.
When using the 3.5mm audio jack, you also need to make sure you plug in the mic after the camera is powered on. I discovered a bug where the camera does not record from the mic if it's plugged in while the camera is not on. Hopefully this issue and having some control over input levels will be addressed in firmware updates in the future.
The onboard mic is nothing special, sound quality is lacking compared to similar products like the GoPro MAX and Fusion. The levels are quite low, and there's no options for a wind cut filter. Most of us just use other mics and sync in post anyway. The on board audio is good enough as a reference track, but that's about it.
Software & Apps
As of now, much of Kandao's software for this camera is in a constant state of development and improvement. Kandao offers the free Qoocam Studio app for both Windows and Mac to stitch and export your footage. There's also a Qoocam 8K app for both Android and iOS.
Although the apps aren't fully baked, Kandao has been working diligently and providing regular updates with bug fixes and added features. Since we received the camera, in 6 months time they've released at least half a dozen firmware updates and several software updates.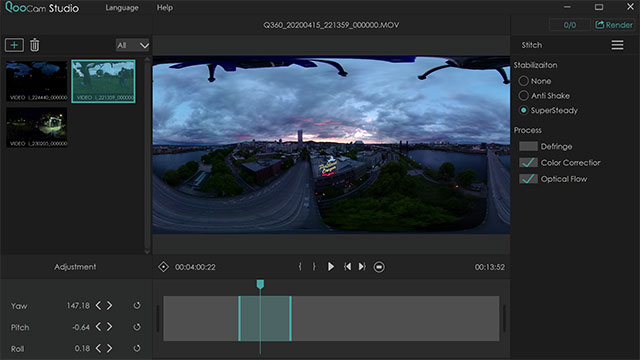 Qoocam Studio is very similar to GoPro Fusion Studio and the Insta360 Stitcher, for those who are familiar. You can batch import both 360 videos or photos by simply pointing the application at your source footage in a folder. From there you can choose to reorient, defringe, toggle stabilization modes (or turn it off), change color correction, enable optical flow stitching, and choose export settings for render. Export codec options include H264, H265 and ProRes. ProRes works if you have a fast enough machine, others may just remain at 0% forever or crash the app. Try H265 at high bitrate if you have trouble exporting ProRes.
Stabilization has 2 modes available, "Anti Shake" and "SuperSteady." The SuperSteady mode will lock down all motion and fix the camera's horizon. If you are stabilizing a vehicle mounted shot and you want the camera's orientation to follow where the vehicle is pointed, you'll want to use anti-shake instead. Unfortunately, anti-shake doesn't work nearly as well as SuperSteady. Overall, the Qoocam 8k's stabilization works quite well, but I would still say that both GoPro and Insta360 have more rock solid stabilization on their cameras.
Leveling your footage in studio is challenging due to the fact that they haven't included a grid, maybe soon with an update? The application does not allow you to edit the footage other than select in and out points of a given clip before exporting, you cannot combine multiple clips on a timeline. Timelapses are not supported at this time, you can batch export images from a timelapse but you cannot generate a timelapse video using the desktop application.
The Android app allows you to directly connect to and monitor your Qoocam via WiFi. You have your choice of several viewing modes including 360, little planet, or even viewing the full equirectangular image. Of course you have complete access to change all of the camera's settings, start and stop recording, or play recordings.
Photos and videos can be downloaded locally to the Android device and shared to social platforms such as YouTube, Facebook, VeeR, Instagram, and Google Street View. From what we can tell with our Samsung Galaxy S10, photos come across as full resolution 8K panoramas as compressed JPEGs around 12-13mb, whereas the 8K 360 videos get transcoded down to 4K with an option to choose low, medium or high bitrates. You have the ability to edit (set in and out points), apply filters, or even apply reframing animations and share your reframed 360 as a standard video. Photos can be shared as "flat" shots too as opposed to 360, which is particularly fun with "tiny planet" mode. You are also able to choose the desired aspect ratio for export of flat photos and videos.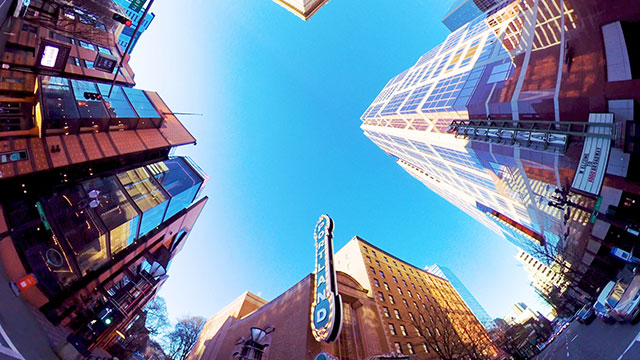 A live streaming feature was recently added to the app, but it's a bit of a letdown because of it's limited bitrate options. It's a fairly low quality stream, especially for 4K. A new "Enterprise" version of the camera is also in development, offering a 5G compatible port for better streaming bandwidth and apparently allows 8K 360 video streaming. 3-5 years from now when most of the world can play an 8K stream, that might be cool.
We expect similar functionality with the iOS app, but since we're not really iPhone people at 360 Labs, we haven't had a chance to test that app. Generally the updated versions of apps are released for Windows and Android first, and the Apple versions tend to lag behind a bit.
Stitching Quality
When it comes to stitching quality, seeing is believing. Check out our test shots and judge for yourself. We've taken the Qoocam 8K on the road, up in the sky, even inside a CNC machine.
The best option for stitching quality without using third-party software is Kandao's desktop app, Qoocam Studio. Just recently, an Nvidia optimized version of studio was made available for Windows that offers optical flow stitching, improved render times, and more codec options. Unfortunately it's not available for iOS yet, but older versions of studio do work without some of the new features. We found this version of studio to be a very significant improvement over past stitching.
Competitors like GoPro MAX, Fusion and Insta 360 tend to have a bit of a blurred line on the edges of the stitch that makes it very obvious, especially with moving shots. We haven't noticed this nearly as much with the new Qoocam Studio 2.0.1.2 stitches, it's very subtle. Our stitched examples below show some pretty impressive results considering the environment. Unfortunately, in some cases the lack of exposure/color balance between lenses does make that stitch line very prominent even with the latest firmware and software.
Mistika VR also offers presets for stitching Qoocam 8K footage as well, but we find that it doesn't always work as well for moving shots. Kandao's "SuperSteady" stabilization is not available if you use Mistika, although the folks at SGO are starting to implement camera stabilization data as part of their workflow. With the amount of control you can have with Mistika, you can get near flawless stitching results, so we look forward to the day when Kandao's stabilization data is implemented. Mistika also allows you to adjust color tone and gamma on each lens, making it easy to compensate for the camera's failure to match exposure.
Conclusion
Ultimately, we did end up with some impressive shots. We've been able to achieve results that we've never had before with other compact 2 lens 360 cameras. But it's important to note that it wasn't easy. This was after 6 months, several firmware updates, software updates and troubleshooting our way through various bugs. Thankfully, Kandao has been responsive and proactive through all of it.
But unfortunately, the Qoocam 8K is not quite the camera we hoped it would be. Due to the focal distance issues and chromatic aberration, it probably won't be our first choice for a lot of landscapes and outdoor shots. For aerials shots, we'll probably still need to haul a bigger camera on a big drone to get better results. Qoocam's "8K" just doesn't stack up. Although for interior shots with extreme closeups, it's been a useful addition to our tool set.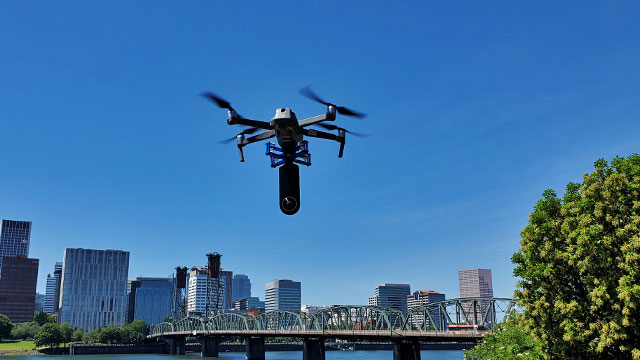 ​
When comparing to other 8K capable 360 cameras, the level of detail is just not what we expect from 8K. To be fair, other 8K capable 360 cameras like the Insta 360 Pro 2 do cost 10x as much. When comparing to other consumer level 5.7K cameras at a similar price point, we don't see a huge difference in quality. However, the Qoocam 8K does have an edge on low light performance and dynamic range due to 10bit.
Should you buy it? I guess it really depends on if you have a very specific use for it. If you can't afford one of the larger professional grade 360 cameras with 8K, and you expect the Qoocam to be comparable, it won't be. If you need an alternative to one of those bulky cameras to use in tight spots where there's just no room for anything else, you might be very pleased with the results. If you are a hobbyist 360 photographer or a realtor who wants to easily take 360 photos without having to invest in third-party software and spend lots of time learning post-production techniques, the Qoocam 8K is probably going to be a source of frustration. That may change with future firmware updates, but we cannot predict that future.
When it comes down to it, the camera is a work in progress. As immersive filmmakers and 360 content creators, we have gotten used to being treated like beta testers. It's the unfortunate consequence of being on the cutting edge. I can't tell you the future, but a lot of people still swear by the Kandao Obsidian S and R today, and those products were improved a lot over time through updates. Only time will tell.
Pros
Cons
Long battery life
Simple and intuitive interface
Affordable (compared to other 8K cameras)
Good stitching (in latest desktop app)
Soft focus on far away objects / with heat
High amounts of noise
No custom kelvin option
Poor audio quality
High levels of chromatic aberration