Submitted by Matt Rowell on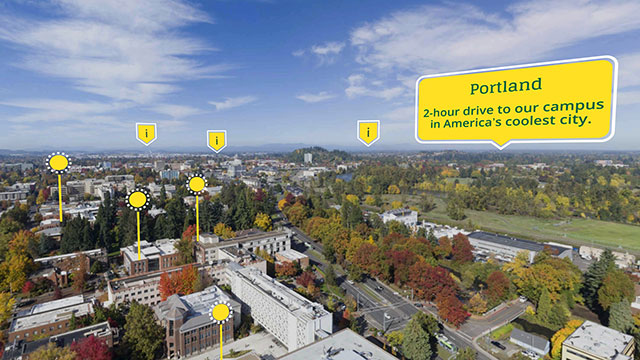 When Facebook bought Oculus in 2014, Virtual Reality instantly became a buzzword on just about everybody's radar. Pretty much any industry you can think of has tried to incorporate VR experiences for marketing, from corporate training, to travel, to entertainment. Universities and colleges are challenged today with the need to drive more enrollment, to reach the tech savvy and connected Generation Z audience.
The same old media used in the past won't have a lasting impression on today's potential new students. Virtual Reality can be used as a platform to engage and excite prospective recruits, drive enrollment and portray the university brand as cutting edge and state-of-the-art. But where do we start? Here's 5 simple ideas that I hope will inspire you to fit VR into your marketing budget this year.
1. Bring Your Campus to Prospective Students Anywhere in the World
Students who visit a campus in person may be more likely to enroll, but it's not always possible for students and their families to make these trips. When they do, they may not have time to visit every campus on the list. By providing a VR experience, the campus can be available 24/7 to anyone in the world, which is especially helpful for international students. The goal of the campus VR tour is not to replace the in person campus visit, but to convince students and family members that visiting your campus is worth the trip.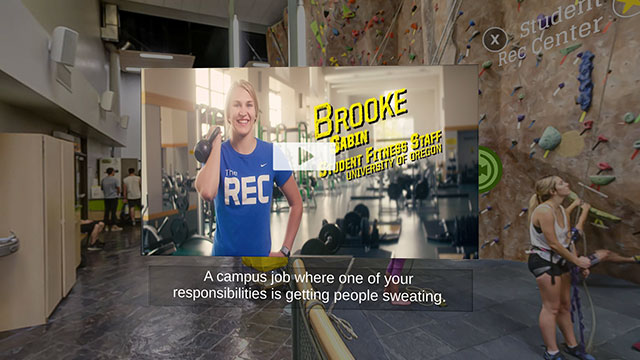 Existing marketing assets like traditional videos and photos can also be leveraged in the 360 space, when used as informational hot-spots. You may already have a library of content to populate the beginnings of a great virtual tour.
People often tend to have preconceived notions about a city or a state, having never been there before. 360 videos and photos are a truthful medium, by providing interactive tours, you give them a sense of what it really feels like to be there on campus.
2. Drive Enrollment With VR Headset Giveaways
The University of Oregon sent nearly 20,000 Google Cardboard VR viewers in early 2018 to all of the admitted students who had yet to make their enrollment decision. These handy VR viewers are cost effective, can be fully branded, and make great gifts. The viewers can cost from $5 up to $20 depending on quantity and features, and can be ordered from several manufacturers, both foreign and domestic.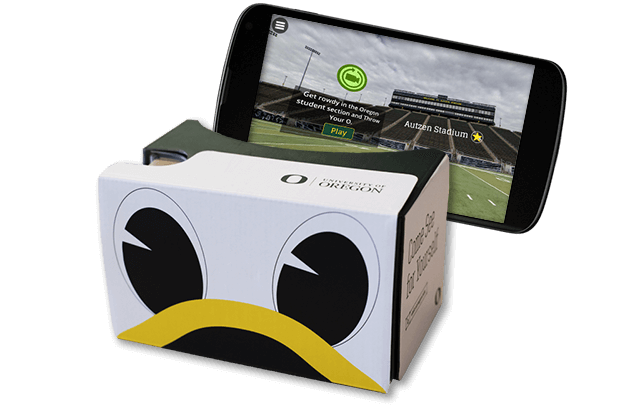 Depending on the design, some of them fold flat for easy and cost-effective mailing. The bulkier cardboard viewers have buttons for easy interaction with an app, but may incur more shipping costs. These costs can certainly add up at high volume.
Students can download your custom branded VR app for either iPhone or Android and simply load their phone into the cardboard holder, transforming their phone into a Virtual Reality headset. Even without a VR headset, it's just as easy to watch 360 videos and enjoy 360 photos with your mobile device in your hand, your screen becomes a window to another world.
3. Recruit Athletes and Academics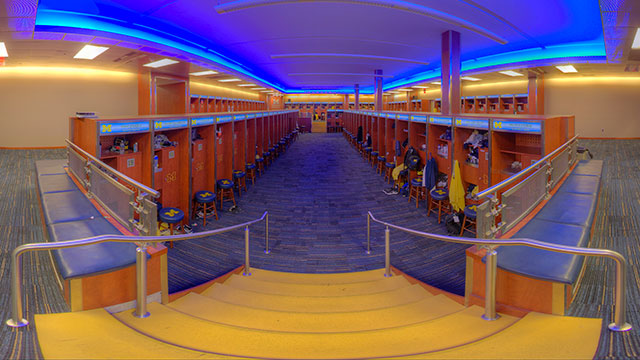 The University of Michigan used VR to showcase its state-of-the-art football program, giving athlete recruits a full 360 view of all the facilities. There are twenty-five 360º photographs of athletic and campus facilities and venues and video shorts that are part of this virtual reality content experience. Recruiters on the road would then be able to show young football players, their parents and family members what it's like to play for U-M.
Beyond sports, VR has a potential for showing off advanced science labs, technology centers and the unique and exciting programs that set your university apart. With the use of 3D schematics in the VR app, you can even give a preview of facilities that are still under construction.
4. Drive Innovation in VR Programs by Involving Students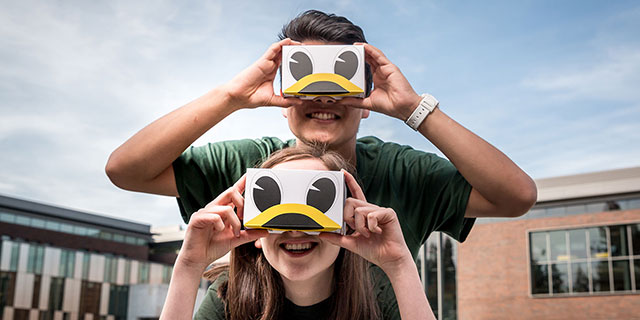 More and more colleges and universities today are offering Virtual Reality programs, either in game development, 360 video production or both. Your own interactive VR app can be a great opportunity for students to collaborate and contribute content, creating an opportunity for hands-on learning about VR and 360 production. The University of Oregon involved students throughout the entire design process of their interactive VR experience.
There are also UX design considerations with VR that have not been fully realized, the next generation of students will be defining the standards for this new medium. They will shape the future of mainstream VR, AR and mixed applications.
The future of VR is also social, with apps like Facebook Spaces, users can share experiences with others and interact as avatars. Apps with social interaction could allow for student or alumni lead tours, all happening in the VR space. Imagine taking a virtual selfie at your favorite spot on campus, and immediately publishing it to Instagram.
5. Provide Valuable Wayfinding & Guided Tour
Finally, last but not least, a Virtual Reality experience can be a great tool to help acclimate new students to a new home. Moving halfway across the country to a new city can be daunting for some, but a great interactive tour can really help potential new students get a feel for how to navigate through the campus.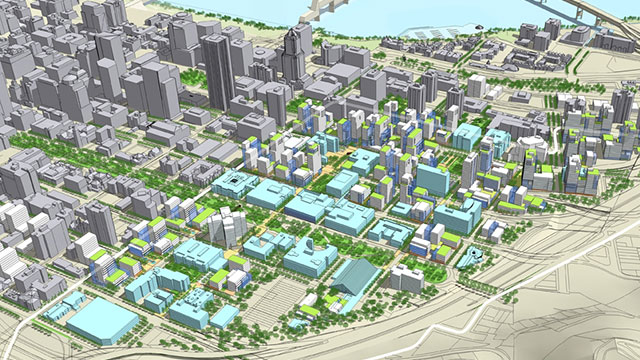 In a way, marketing a college campus is a lot like being a destination marketing organization. We're surprised to hear some universities report that a large number of students rarely get a chance to leave the campus and explore. With VR, we can highlight the exciting activities your city or region has to offer, encouraging new students to go out and explore everything your state has to offer.
The VR environment can also be helpful for students with disabilities, you can call out services and accomodations directly in the VR tour. Sometimes even just being able to visualize and navigate a space before going there can make new and challenging experiences easier to overcome.
Ready for a VR Experience for Your Campus?
If you've been thinking about creating a campus VR experience, please feel free to reach out to us for a consultation. At 360 Labs, we approach each project as a custom solution from the ground up. No two college campuses are alike, so we believe that your VR experience should be just as unique and exciting as your campus. We're here to help you navigate the various options and possibilities, let us know how we can help!