How We Screened Our VR Documentary for 150 Guests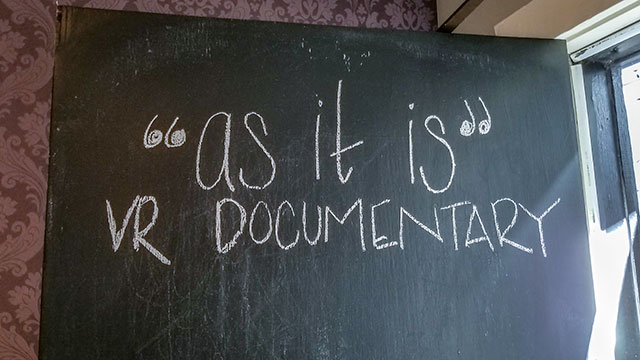 Distributing VR content at scale to large audiences has always been a challenge. When you spend countless hours in post-production making a VR documentary film look absolutely amazing, there's nothing more heartbreaking than hearing about viewers who had a bad experience because of a low quality headset or low quality streaming.
We try our best to show our work at trade shows, film festivals and other events - but we have a limited amount of headsets and a limited amount of time at these venues. After our Grand Canyon VR documentary "as it is" was accepted into a film festival, we found out first hand just how difficult it is to manage multiple headsets for a crowd of viewers. We came out of this experience wishing more people had seen our film.
These pain points inspired us to attempt our own showing right here in Portland, with the goal to get as many people as possible into "as it is" in a superior quality headset.
Finding a Partner for Multicasting
To get enough viewers through our 16 minute VR film in one evening, we knew that we would have to find a partner to help us present on multiple Samsung Gear VR headsets at the same time. There are several apps and platforms out there with this feature, however, only one such company does this by reprovisioning the firmware on the phone.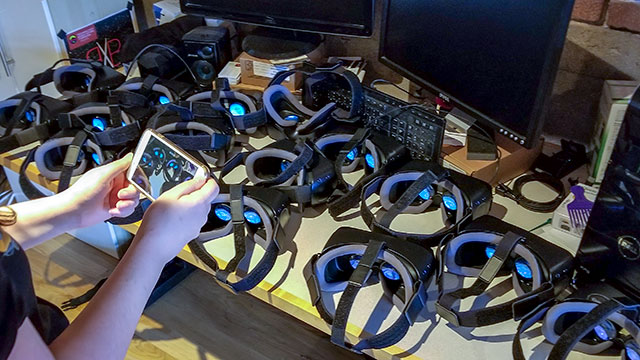 We had recently heard about Vertex Wireless through Samsung. As a long-time Samsung partner and distributor, they developed ezVR, a solution that actually strips the phone of all other services except those needed for VR. We reached out to Vertex to see if they might be interested in collaborating on a case study, to use their specialized phones with updated firmware and the ezVR platform to screen our documentary.
They offered us a free rental of 20 headsets equipped with Samsung Galaxy S7 phones, ready and capable of showing 4k 360 video to 20 participants at the same time.
The Location
Our first thought was the office. It's like a VR arcade in here, every desk has a headset, but we definitely don't have room for 100 people to mingle, drink and watch VR video as an audience.
To help with the location, we reached out to a former client of ours with an event space, Opal 28. They agreed to work with us on a trade for services, we needed a venue and they needed an updated virtual tour. How perfect is that? They have a beautiful vintage bar with a patio and two separate rooms, which was great for us because we wanted the actual VR screening to happen in it's own room away from noise and distraction.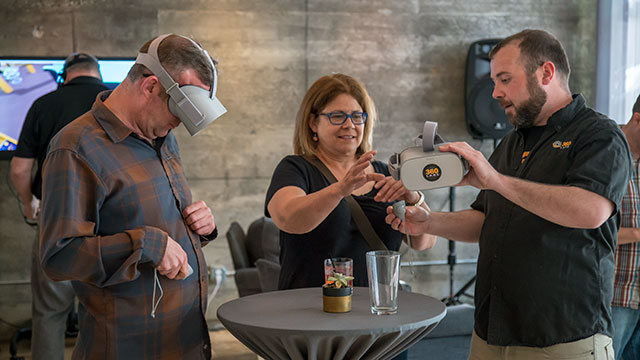 Opal 28 provided the cool space, catering, and a cash bar. The event was free and open to the public, but we asked guests to reserve one of the 20 minute time slots to view the film and show up at least 15 minutes prior to their showing. For the most part, this worked, but like every good plan we had wiggle room to be flexible.
It's Show Time!
Overall, the evening was quite a success. Drinks were had, mingling was done, and in the end about 150 people got to see "as it is." This would never have been possible in a trade show or film festival environment in such a short amount of time, especially with a 16 minute piece of content.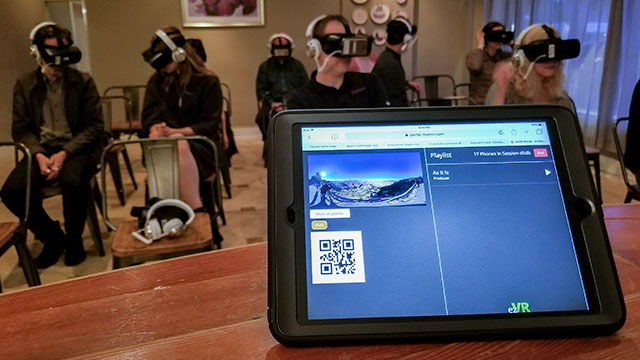 The process of showing the film with ezVR was, well, pretty easy. The app disallows all other buttons and input on the Samsung Gear VR headset, so the viewer can't accidentally back out to a menu or pause the experience unknowingly. The facilitator simply had to press a button on the iPad app to get everyone started. There were a few quirks and phones dropping out here and there - but we had a few spares on hand ready to swap out if needed. A more reliable WiFi network may have prevented that.
Initially, we had hoped to show our film in 6k (6144x3072) as it was mastered, however the Samsung S7 phones (with SnapDragon processors) weren't quite able to keep up. When we finish our next film, maybe next time we'll be able to use newer devices with Exynos processors and try it again in 6k or even 8k.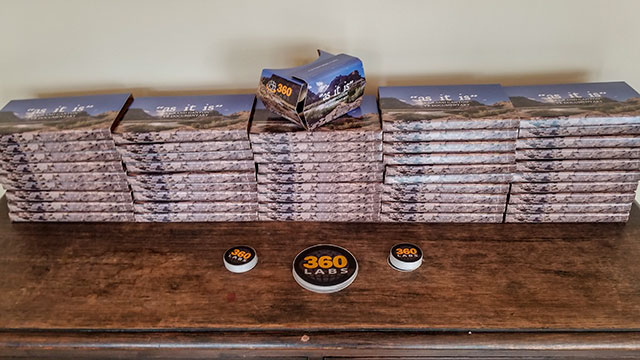 We also gave a gift to the first lucky 50 people who experienced the film, a limited edition "as it is" Google Cardboard VR viewer custom printed from our friends at Dodocase.
Thanks for Joining Us
Ultimately, our goal for the documentary was to get it in front of as many people as possible, to help spread awareness about the many threats facing the Grand Canyon and the great work being done by groups like Save the Confluence and Grand Canyon Trust to keep it "as it is." We'd like to thank everyone who participated in our film and supported this project along the way.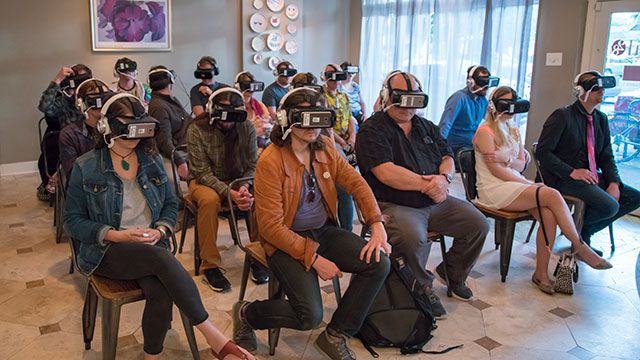 We'd like to thank Vertex Wireless, Opal 28 and all of our guests for making this night special, it certainly won't be the last of events like these. We hope to see you at the next premiere!